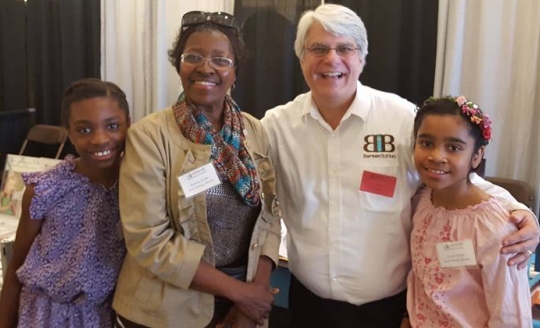 I have probably harped on Bill Nye's errors far too much (see here, here, here, here, here, here, and here). Partly, this is because he continues to make them, when even a small amount of self-education would fix that problem. Partly, it is because some of his errors are so incredibly egregious. This post is a result of the latter situation.
In his error-riddled book, Undeniable, Nye makes the following statement:1
Inherent in this rejection of evolution is the idea that your curiosity about the world is misplaced and your common sense is wrong. This attack on reason is an attack on all of us. Children who accept this ludicrous perspective will find themselves opposed to progress. They will become society's burdens rather than its producers, a prospect that I find very troubling. Not only that, these kids will never feel the joy of discovery that science brings. They will have to suppress the basic human curiosity that leads to asking questions, exploring the world around them, and making discoveries. They will miss out on countless exciting adventures. We're robbing them of basic knowledge about their world and the joy that comes with it. It breaks my heart. (emphasis mine)
This is one of the most egregiously false things that Mr. Nye has claimed, and that's saying a lot, given that it took me twelve pages to detail all of the errors I found in his book. I want to give you some idea of how egregiously wrong that statement is by just highlighting a few people I have met over the past six weeks.
Let's start with the family pictured with me at the top of this post. The woman in the picture is a homeschooling mother. She has two young ones with her, but she wanted to tell me about her eldest son, who is in the fifth year of his MD/PhD program. Why is he getting two advanced degrees? Because he wants to do cancer research. To treat patients, you typically need an MD. Being trained to do original research typically involves getting a PhD. Thus, those who want to do original research in medicine often get both an MD and a PhD so they have all of the relevant training they need.
This mother's son demonstrates in no uncertain terms how wrong Bill Nye is. I met her in Peoria, Illinois this past Friday, when I spoke at the APACHE homeschool convention. She came up to me at my publisher's booth and told me that her son had asked her to inform me of two things: First, my science courses encouraged him to pursue medical research as a career. Second, they helped him excel at university so he could get accepted into medical school.
I am not telling you this to "toot my own horn," even though a former pastor of mine says I play that particular instrument very well.* I am telling you this because my courses are young-earth creationist courses, and this mother gave her son a young-earth creationist education. Far from suppressing "the basic human curiosity that leads to asking questions," this young man's creationist education encouraged him to continue to ask questions, explore the world around him, and make discoveries. He has, most certainly, already felt "the joy of discovery that science brings." Indeed, I suspect he will be experiencing that joy for the rest of his career.
Now, if this justifiably-proud mother were the only person I met recently who demonstrated Mr. Nye to be wrong, I probably wouldn't have posted about her and her son. However, the Lord has led several such people to me recently, and I want to introduce a few of them to you!
This young lady came up to me after I finished a talk at the Great Homeschool Convention in Ft. Worth, Texas: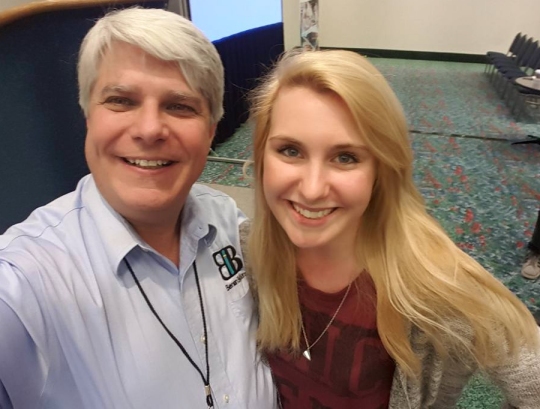 She is currently in her senior year of high school and wanted to tell me that my young-earth creationist courses had encouraged her to study medicine. Why? Because she loved seeing the hand of God in the design of the human body and the biological world in general! My young-earth creationist courses had actually made her more curious about the human body. This is in stark contrast to Mr. Nye's claim that those who are taught creationism will have to "suppress the basic human curiosity that leads to asking questions, exploring the world around them, and making discoveries."
In fact, curiosity seems to be a trait that young-earth creationism inspires. Consider, for example, the amazing young lady on my immediate left in this picture: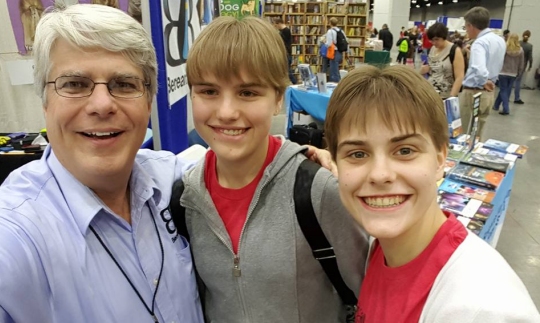 She and her sister came up to me at my publisher's booth when I was speaking at the Great Homeschool Convention in Cincinnati, Ohio. At the ripe old age of 18, she has already earned her college degree in natural science. She plans to pursue an advanced degree so she can do scientific research. Can Mr. Nye tell me how she going to "miss out on countless exciting adventures" when she has such a head start at studying the natural world? Please note that her sister is following in her footsteps, already working on a college degree of her own at the ripe old age of 17.
Next, meet a high school student who literally ran up to me while I was at the Greater St. Louis Home Educators Expo and told me that physics is AWESOME.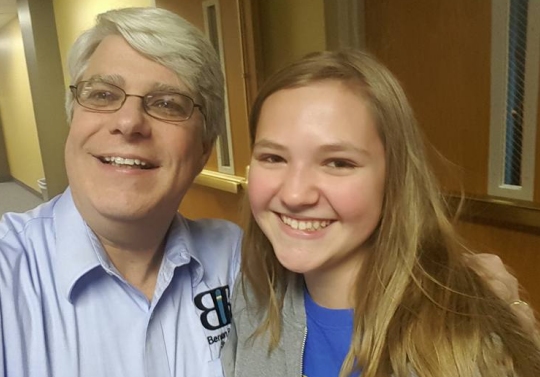 At the beginning of the school year, she had no idea that she would enjoy physics so much, but the more she studied my young-earth creationist physics course, the more she loved it. She said that she was just amazed at how God put the physical laws together so that everything worked so well. She doesn't know exactly what she wants to study in college yet, but she figures it will be physics-related.
Speaking of physics, this person demonstrates how creationism and homeschooling can often work hand-in-hand to produce people who want to study science.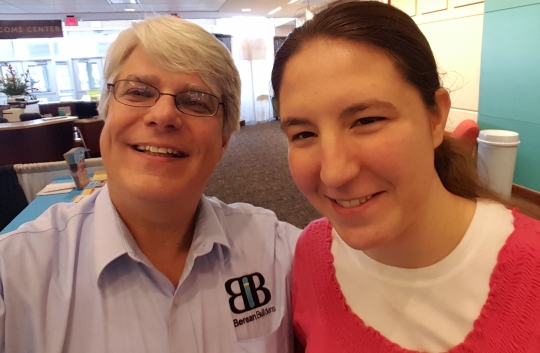 She was another person I met at the APACHE homeschool convention. She is an engineer who currently works for CAT and is pursuing a master's degree in mechanical engineering. Mr. Nye has a BS in mechanical engineering, so this woman already has more formal education than he does in his chosen field of study.
Interestingly enough, when she was in high school, she had no desire to study physics, which is (of course) the basis of her field. However, her brother wanted to study it, and she agreed to study it with him, just to help him pursue his interest. After helping him work through my physics course, she was hooked! As I said, this shows how a young-earth creationist education, combined with homeschooling, can inspire a student to go into a science-related field. Had she not been homeschooled, she would never have taken physics. However, because she was willing to be a helpful homeschooling sister, a life-long interest was sparked.
I will end with one more picture: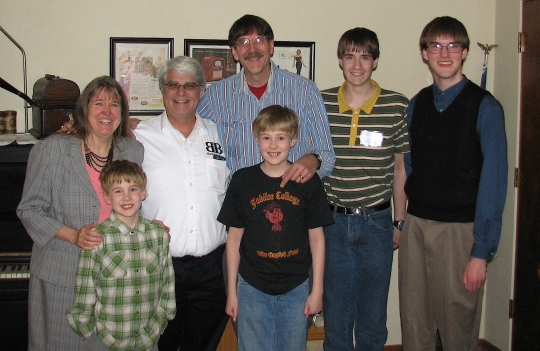 My publisher and I had the pleasure of spending an evening with this family while we were at the APACHE homeschool convention. All of their sons use my young-earth science curriculum. The eldest is currently studying psychology in college. The next younger son is a computer whiz. The two youngest boys are currently studying my elementary science series, and they excitedly showed me their journals, told me about their favorite experiments, and gushed on and on about how much they love science. Whether or not they end up going into a science-related field in the future, it is clear that even at this age, their curiosity about the natural world is far from suppressed!
Instead of keeping students from feeling "the joy of discovery that science brings," then, a young-earth creationist education can inspire students to love science and want to learn more about the natural world. In many cases, it also makes them better college science students!
REFERENCE and NOTE
1. Bill Nye, Undeniable: Evolution and the Science of Creation, St. Martin's Press 2014, p. 10
Return to Text
* Please note that while I truly enjoy hearing from students who have used my courses and end up loving science, I really do try to keep in mind that it is not my work that produces this love. It has already been placed in their heart by God. He simply uses my courses to help awaken the love that He has put there. When it comes to being used by God, I subscribe to the Don Francisco way of looking at things. In his classic song, "Balaam," he sings about how God used a donkey to accomplish His purposes. He then concludes with this admonition:
So when the Lord starts usin' you don't you pay it any mind.

He could have used the dog next door if He'd been so inclined.