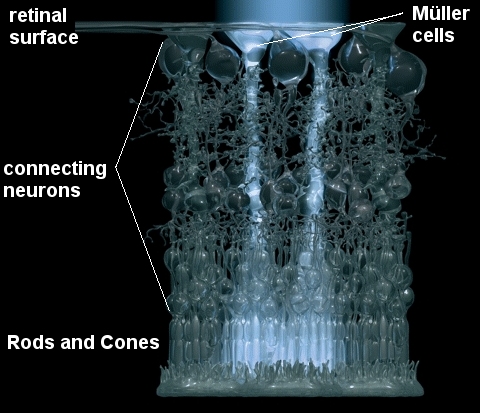 Nature is filled with amazing designs, which leads me to the conclusion that it is the product of a Magnificent Designer. Of course, many scientists disagree with that conclusion, and some of them try to argue against it by pointing out examples of what they think are bad designs in nature. One of the oft-cited examples is the retina of the human eye. As Dr. Michael Shermer puts it:1
The anatomy of the human eye shows that it is anything but "intelligently designed." It is built upside down and backwards, with photons of light having to travel through the cornea, lens, aqueous fluid, blood vessels, ganglion cells, amacrine cells, horizontal cells, and biploar cells, before reaching the light-sensitive rods and cones that will transform the signal into neural impulses.
To understand what he is saying, look at the illustration above. When light hits the surface of the eye's retina, it has to travel through layers of cells that essentially connect the retina to the rest of the nervous system. Only then can it reach the light-sensitive cells, called rods and cones, and be converted into a signal that can be sent to the brain. This, of course, seems backwards to most evolutionists. According to them, if the retina were designed intelligently, the rods and cones would be at the retinal surface so they are the first thing the light hits. That way, the connecting neurons could be placed behind the rods and cones so they don't interfere with the light in any way.
Like most arguments inspired by evolution, the more we learned about the human retina, the less reasonable this argument became. Back in 2007, a study published in the Proceedings of the National Academy of Sciences of the USA showed that light doesn't have to travel through the connecting neurons to reach the rods and cones. Instead, as shown in the illustration above (which appeared on the cover of the journal), there are special cells, called Müller cells, that collect the light and guide it to the rods and cones.2
Three years later (in 2010), an analysis published in Physical Review Letters concluded:3
The retina is revealed as an optimal structure designed for improving the sharpness of images.
The authors of the analysis showed that the position of the rods and cones in the retina combined with the way the Müller cells guide the light to them make them much less sensitive to light that is scattered within the eye itself. This, in essence, reduces the "noise" that the rods and cones would get from errant photons, making the overall image sharper and clearer.
I blogged about this previously, pointing out that it is precisely what creationists predicted and quite opposite what evolutionists maintained. I am bringing it up now because further research has confirmed the creationist prediction in an even more stunning way!
Continue reading "Confirmation of a Creationist Prediction Becomes Even More Stunning"