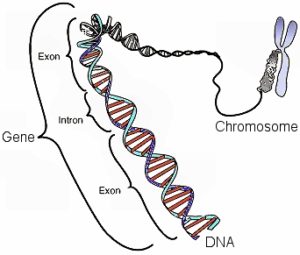 DNA is incredibly complex, so it's really not surprising that the more we examine it, the more it challenges our notions of how it works. Consider, for example, genes. They make up less than 2% of human DNA, but they are important, because they tell the body what proteins to make and how to make them. At one time, evolutionary scientists actually thought that the vast majority of the rest of human DNA was useless junk. However, like most evolutionary ideas, that notion has been falsified by the data.
Despite the fact that they represent less than 2% of human DNA, genes are obviously important, because most of the chemical reactions that occur in our bodies are controlled by and depend on the proteins that genes specify. Because of the amazing design behind DNA, however, a single gene can actually produce many, many different proteins. This is because, as shown in the drawing above, a gene is actually constructed of introns and exons. The exons represent functional modules in the gene, and the introns separate those modules. When a gene is read, the exons can be grouped in many different ways, producing many different proteins. Because only the exons are used in the production of proteins, geneticists often study an organism's exome, which is the collection of all the exons in a organism's DNA.
When it comes to animals, studying how the exome affects overall health is difficult, but straightforward. Scientists can damage the gene of an animal and see what health consequences arise. This is referred to as a gene knockout, and it is an invaluable tool for learning what a gene does. For example, when the gene lovingly referred to as PRDM9 is knocked out of mice, they become sterile.1 Thus, we know that the PRDM9 gene is essential for reproduction in mice.
When it comes to humans, it's not ethical to do gene knockouts. However, you can study a population and find examples of people who have a natural mutation that has disabled a gene. By comparing that person's health to similar people who have a working version of that gene, you can learn something about how the gene affects health. A recent study published in the journal Science did just that, and the reported results were surprising, to say the least!