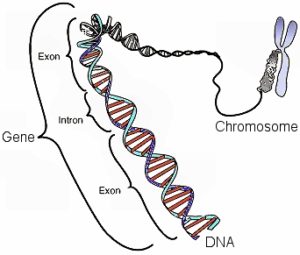 DNA is incredibly complex, so it's really not surprising that the more we examine it, the more it challenges our notions of how it works. Consider, for example, genes. They make up less than 2% of human DNA, but they are important, because they tell the body what proteins to make and how to make them. At one time, evolutionary scientists actually thought that the vast majority of the rest of human DNA was useless junk. However, like most evolutionary ideas, that notion has been falsified by the data.
Despite the fact that they represent less than 2% of human DNA, genes are obviously important, because most of the chemical reactions that occur in our bodies are controlled by and depend on the proteins that genes specify. Because of the amazing design behind DNA, however, a single gene can actually produce many, many different proteins. This is because, as shown in the drawing above, a gene is actually constructed of introns and exons. The exons represent functional modules in the gene, and the introns separate those modules. When a gene is read, the exons can be grouped in many different ways, producing many different proteins. Because only the exons are used in the production of proteins, geneticists often study an organism's exome, which is the collection of all the exons in a organism's DNA.
When it comes to animals, studying how the exome affects overall health is difficult, but straightforward. Scientists can damage the gene of an animal and see what health consequences arise. This is referred to as a gene knockout, and it is an invaluable tool for learning what a gene does. For example, when the gene lovingly referred to as PRDM9 is knocked out of mice, they become sterile.1 Thus, we know that the PRDM9 gene is essential for reproduction in mice.
When it comes to humans, it's not ethical to do gene knockouts. However, you can study a population and find examples of people who have a natural mutation that has disabled a gene. By comparing that person's health to similar people who have a working version of that gene, you can learn something about how the gene affects health. A recent study published in the journal Science did just that, and the reported results were surprising, to say the least!
The investigators examined the exomes of 3,222 adults in the United Kingdom who are of Pakistani descent. More than 800 of them had rare mutations on a total of 781 different genes. Those mutations are thought to disable the genes, so essentially, these people experienced natural gene knockout. In fact, 38 of the individuals had disabling mutations on genes that were thought to be essential for good health. Indeed, it was thought that the loss of those genes would produce disease. However, of those 38 people, only 9 showed any evidence of the expected disease. The others were apparently disease-free, despite having a bad gene that is thought to cause the disease!2
That's not the only surprise from the study. Remember the PRDM9 gene? When that gene is mutated to non-functionality in mice, the mice are sterile. However, there was one woman in the study whose PRDM9 gene was mutated to the point that it is apparently nonfunctional, but she had a child! Obviously, then, while a mutated PRDM9 gene in mice causes sterility, it doesn't necessarily do the same thing in people.
How can we understand these results? It's too soon to say with any certainty, but I have a few thoughts. First, it's possible that what we think are gene-destroying mutations don't actually destroy the genes. Thus, even though the mutations the authors saw are generally thought to break the genes, perhaps the genes are (at least partially) functional after all. Second, we know that there is a process called RNA editing, that changes the product of a gene before the protein determined by that gene is actually made. It's possible that some kind of RNA editing is "fixing" the product of the broken genes so that even though the gene is broken, the protein is still produced properly. Finally, it's quite possible that the human genome is more redundant than the genomes of animals, allowing people's DNA to compensate for broken genes in a way that an animal's DNA cannot.
Of course, the authors are already doing another study on another group of people (South Asians living in East London) to see what else can be learned. Most likely, it will take many more studies to get to the bottom of these fascinating results. However, one thing is already quite clear: we have a lot more to learn about DNA and how it relates to health!
REFERENCES
1. Encyclopedia of Evolutionary Biology, Richard M. Kliman (Ed.), Academic Press 2016, p. 448
Return to Text
2. Vagheesh M. Narasimhan, et. al, "Health and population effects of rare gene knockouts in adult humans with related parents," Science 352:474-477, 2016
Return to Text