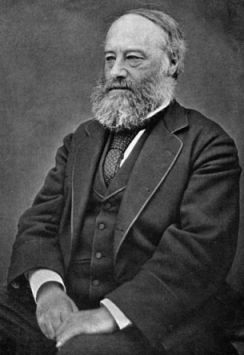 Over the past few years, I have been writing a series of elementary science courses for home educated students. Since the courses discuss scientific concepts in chronological order, I have spent a lot of time learning the history of science. In the process, I have found that a lot of what I was taught in school (including university) about how science developed is simply false. I have also become acquainted with the views of many great scientists from the past, which has allowed me to learn from them. I want to discuss one of those great scientists in order to share something I have learned.
James Joule was born in 1818. Because his father was a successful brewer, chemistry was in his blood. He was taught at home for many years, and then his father sent him to study under John Dalton, the founder of modern atomic theory. Dalton suffered a stroke two years later, but his influence on Joule continued long after he stopped teaching. Even though Joule ended up taking over the family brewery, he spent a lot of time doing experiments, mostly focused on trying to explain electricity and magnetism in terms of Dalton's new atomic theory.
However, the more experiments he performed, the more interested he became in the heat that was generated in electrical systems. As he studied heat, he eventually demonstrated that he could convert mechanical energy into heat. This allowed him to argue that heat is just another form of energy, which went against the scientific consensus of his day. Of course, today we know he was correct, and because of that, the standard unit for measuring energy is named after him (the Joule).
Continue reading "How Christianity and Science Can Interact"