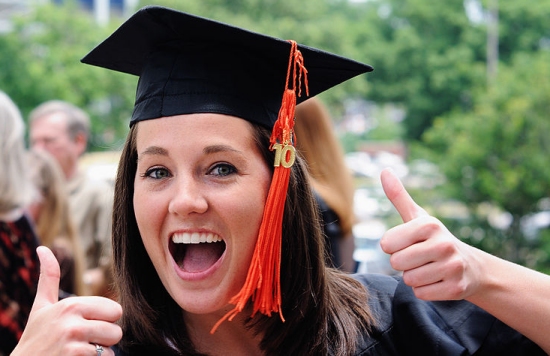 Many of my readers probably know that I started working with homeschoolers because of my experiences with homeschool graduates when I was on the faculty at Ball State University. As a group, they were not only academically superior to their peers, but they were also significantly more well-adjusted. I often share this fact when I am speaking to homeschool audiences, so it didn't surprise me when a homeschool blogger (Michelle) sent me some questions about my experiences with homeschool graduates at the university level. As I indicated to her, I have experienced homeschool graduates at both a secular university (Ball State) and a Christian university (Anderson University). Based on my experiences, I can state with some confidence that, on average, homeschool graduates excel at the university level, be it in a secular or Christian environment. Several studies back up those experiences (see here, here, here, here, and here).
Michelle told me that she was writing a blog post about professors' impressions of homeschool graduates, and she asked me four specific questions. I answered them as best I could and then (like many things) promptly forgot about it. Yesterday, I received another email from Michelle, telling me that she had finished the project and had published her post. After reading it, I decided that I had to share it. I think it provides some really valuable insights, especially for parents who are currently homeschooling and want their children to pursue higher education.
Unlike the studies that I spend a lot of my time discussing, the results of her survey of college professors is not scientific. It has a tiny sample size and makes no attempt to be representative of the population of college professors as a whole. Nevertheless, it is incredibly valuable, because the college professors who were surveyed offer some excellent advice to homeschooling parents, and they provide perspectives about homeschool graduates in higher education that would be hard to measure in a more scientific survey.
I strongly encourage you to read the entire article, but I do want to offer a bit of "color commentary."
The first thing I noticed, of course, was that all the professors agree that homeschool graduates make excellent college students. That's not surprising, given the long list of studies that indicate this fact. However, the professors' responses do give some insight into why. According to these professors, the homeschool graduates are better readers and writers than their peers, and they have a better work ethic. In addition, they seem to have a better attitude than their peers when it comes to earning their education instead of expecting it to be given to them.
One of the excellent questions asked on the survey dealt with the weaknesses that homeschool graduates have in a college setting. I found one response to be quite humorous:
Sort of a funny issue – but I get several homeschool students who forget to put their names on their work. They just forget that this is something I need from them.
I have experienced that as well. Most of the other responses to the question are also issues I have experienced. One professor said that homeschool graduates tend to want immediate feedback on assignments, not understanding that for a professor who has many students, that's just not possible. Another mentions an over-reliance on the internet for research, and another indicated a lack of experience when it comes to exams. However, the one I consider the most important is:
Some of them (surprisingly to me, a homeschool mom myself who's learning what she needs to be sure to incorporate in her own "academy") don't seem to have much experience taking notes in a class setting where the instructor just keeps moving along. At least one of them didn't even realize he should copy down the examples we worked in our college algebra math class.
This is why I stress that homeschooled students should have some classroom experience. I think many homeschool families overdo this and end up missing out on some of the real benefits of homeschooling, but others underdo it, producing graduates like the one discussed in the quote above. Like many things in life, this is about moderation. Homeschooled students should have some classroom experience, especially if they are bound for higher education. However, that should represent only a fraction of their academic experience, because many of the real benefits of homeschooling (developing the ability to learn without a teacher, developing strong relationships with parents and siblings, experiencing the freedom to explore the "rabbit trails" of a subject, etc.) can only occur in a traditional homeschool setting.
The professors offer some excellent suggestions to homeschooling parents, encouraging them to emphasize reading, help their children develop time-management skills, emphasize independent learning, and get their children ready to follow strict schedules. However, I want to end with the responses the professors gave to the question, "Is there any other information you would like to offer?" Once again, every response is valuable, but I want to highlight two of them:
I have been so impressed by my homeschool students that I pulled my son from public school.
It's hard to argue with that one. When we adopted our daughter, we immediately started homeschooling her, because my experiences with homeschool graduates at the university level had already convinced me that it was the best educational opportunity available.
The second quote is very valuable for those who are able to follow the advice:
I also like it when students who are homeschooled let others in the class know. I don't share this information with the other students, so sometimes they go through a class without anyone knowing. However, I like it when the students say something about being homeschooled. This often becomes a teaching moment for the other students who have preconceived stereotypes about homeschooling. I enjoy seeing their attitudes and ideas shift to see homeschooling in a new, different way.
Obviously, not all homeschool graduates have the kind of personality that will allow them to share personal information like that in a group setting. However, I strongly agree with this professor. Homeschool graduates should, when they feel able, share their homeschooling experience in class. I think it would go a long way towards destroying the ignorant stereotypes that exist among both students and faculty at many colleges and universities.