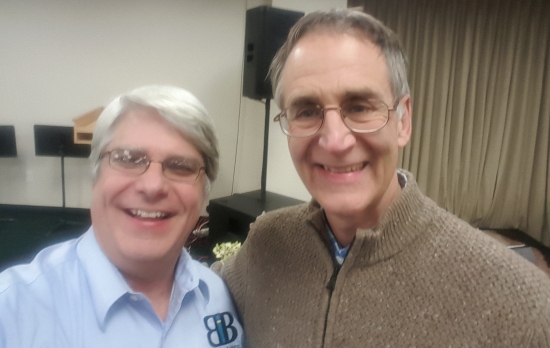 This past weekend, I had the opportunity to walk among giants…well…at least figuratively speaking. I got to participate in panel discussion with Dr. Steve Austin, Dr. John Baumgardner, and Dr. John Sanford. Anyone who has spent much time researching the origins issue will recognize at least one of these individuals, as they are all excellent scientists who write and do research from a creationist perspective. I didn't think I belonged on the panel, since I consider them all to be much more accomplished and talented scientists than me, but the people at the Creation Science Fellowship in Costa Mesa, California seemed to think I could contribute to the discussion, so I was included.
While the panel discussion was well attended and very productive (I will discuss it a bit in a moment), the most exciting aspect of the trip for me was meeting Dr. Sanford. He is an incredibly gifted geneticist. For example, he co-invented the "gene gun," a device that can introduce DNA from one organism into a completely different species of organism. He has also done some excellent creationist research (see here and here, for example) and has written what I consider to be the best book about genetics and evolution, Genetic Entropy and the Mystery of The Genome. I have discussed parts of it in previous posts (see here and here).
I was also thrilled to hear about an organization he is leading, which is called Logos Research Associates. It is a group of scientists who are committed to doing original, cutting-edge scientific research from a creationist perspective. Their current projects investigate issues in oceanography, genetics, geophysics, and geology. The more I discussed his organization and its projects, the more excited I became. The projects are incredibly interesting, and the way they are addressing the scientific issues involved is spot-on. He told me about a couple of papers that are in the process of being finalized right now, and once they are published, you can bet that I will write about them.
Scientists like Dr. Sanford and organizations like Logos Research Associates make me think that the future of creation science is very bright.
Of course, the main reason I traveled to Costa Mesa was to participate in a panel discussion that was entitled, "Everything You Wanted to Know about Creation Versus Evolution but Were Afraid to Ask." Essentially, the four of us (Dr. Austin, Dr. Baumgardner, Dr. Sanford, and myself) sat at a table and answered questions from a packed house. Many of the audience members were laypeople, but there were roughly 20 scientists in the audience as well, and probably half of them had Ph.D.'s. Sometimes, one of them would chime in on areas related to his or her speciality.
When the panel discussion began, we each introduced ourselves and discussed our areas of expertise. I was last, which was good, because I had the least to say. In fact, I introduced myself as the "midget" on a panel of giants. I kept silent for most of the questions, since many of them had to do with biology, earth science, genetics, and geology. The other members of the panel were significantly more qualified to discuss those issues than I was. However, I did contribute where I thought I had something useful to add.
The most interesting question I decided to tackle was about quantum mechanics. The questioner said that quantum mechanics seems to contradict some basic laws of logic. For example, it is obvious that an object cannot be in two different places at the same time. Consider your car. It can't simultaneously be in your garage and on the highway. However, quantum mechanics seems to contradicts that. It says that a particle can be in two different places at the same time. He wondered whether or not we agreed with that.
Since I was the only one who had used quantum mechanics in his research, I took a stab at that one. I said that quantum mechanics is a really difficult theory that is mostly mathematical. As a result, it is often misused and misunderstood. Quantum mechanics doesn't really state that a particle can be in two different places at the same time. What it does say is that you cannot determine the precise location of a particle. Instead, its position in space (and possibly time) is based on probability. For example, Thomas Young did a classic experiment in which he shined light on two closely-placed slits. The pattern of light on the other side of the slits was just what you would expect if a large wave had hit the two slits. This demonstrated that light is a wave.
It turns out you can do the same experiment with electrons, and if you look at how the electrons come out the other side, you see exactly the same pattern. Even if you shoot the electrons at the slits one at a time, the pattern still emerges. This demonstrates that under the conditions of the experiment, the electrons behave like waves. Many people therefore conclude that the electron had to pass through both slits at the same time (like a wave would), and therefore, the electron must have been in two places at once.
But that's just one interpretation of the experimental results, and it is not a particularly good one. In fact, it cannot be supported mathematically. Mathematically, the electron's interactions with the world are governed by an equation called a "wave function," and that wave function produces only probabilities for where the electron is. You can't say exactly where any particular electron is. You can only say that there is a certain percentage chance that you can find it at one place, and there is a certain percentage chance that you find it at another place. From a mathematical standpoint, it isn't in both places at the same time. It is in one place, but that place cannot be exactly determined.
The reason you see the same result with electrons and light in a double-slit experiment is because both of them are governed by wave functions. As a result, when you use a lot of them in your experiment, you will get the results you expect for a wave. It's not that a single photon or a single electron passed through both slits at the same time. It's that with many photons or many electrons, you can finally see the results of the probabilities that are produced by the wave function. This is very difficult to communicate, so instead, it is easier to say things like, "the electrons passed through both slits at the same time."
Now please understand that quantum mechanics does seem to say some strange things, but that's mostly because of two issues. First, we are trying to relate what happens at the atomic scale to what we generally experience. However, we don't experience things at the atomic scale. As a result, we are trying to relate two entirely different worlds. That can lead to a misunderstanding of what is really happening at the atomic scale.
Second, we are trying to take mathematical truths and say them with words. That can lead to a corruption of what the mathematics is actually saying. Nearly 400 years ago, Galileo wrote:
[The universe] cannot be read until we have learnt the language and become familiar with the characters in which it is written. It is written in mathematical language, and the letters are triangles, circles and other geometrical figures, without which means it is humanly impossible to comprehend a single word.
The more we study science, the more it becomes clear that Galileo was right. The universe is written in a mathematical language, and often when we "translate" that language into words, we corrupt its meaning. The can be particularly true when trying to communicate the details of quantum mechanics with people who do not know the mathematics involved.
Please note that the panel discussion will eventually be posted to YouTube, on this channel. I will post the actual link here when I notice that it has become available.
UPDATE (2/19/17): The panel discussion can now be found here.