I love hearing from students after they have taken a course or two from me and then gone on to pursue their goals. I enjoy each report and am thrilled that my courses meant so much to them. I do have to admit, however, that I enjoy some reports more than others. Some students credit me for their love of science, and that means the world to me! Others suggest that they couldn't have been successful in pursuit of their goals without my courses. I tend to doubt that, but I appreciate the sentiment. Some students say that my courses have helped them in their spiritual life, and that means the most. There are times, however, that I get a report that is both meaningful and downright hilarious, at least to me! Such was the case a few days ago, when I got an email from Jessica M.
She wrote to tell me that she took my general chemistry course (which is out of print – I recommend using this one now) and my advanced chemistry course several years ago and is now in college, pursuing a degree in nursing. She says that college chemistry is going well, and it is bringing back a lot of good memories, so she wanted to thank me for being an integral part of her homeschool-high school years. Of course, that meant a great deal to me. However, I have to admit that I was more intrigued by something else she wrote:
As a homeschooler, you were one of my first "favorite professors" (next to my parents and Andrew Pudewa). Extrapolating from your often-humorous, lighthearted writing style, I invented a jovial stickman-character of you who often appeared in the margins of my books to make comments (together with the three Chemistry Nerds and Mr. Mole).
If you have ever experienced a class with Andrew Pudewa, you would know that it is no insult to finish behind him in a student's "favorite professors" list, but that's not what really intrigued me. I wanted to learn more about this "jovial stickman-character," so I asked her if she would mind sending me some examples, and when she did, I spent the next several minutes laughing out loud!
The image above shows you the stick-man character. I think it's a pretty good likeness, except that I am a lot heavier and have more hair. What I found hilarious, however, is the way Jessica portrayed some of my favorite phrases that I use while teaching. For example, when I am teaching a concept that uses a lot of facts or requires a lot of inferences, I realize that at first glance, it confuses a lot of students. As a result, I usually say something like, "Is your head swimming from that? Don't worry…" and then explain that by the end of the discussion it will be a lot more understandable. Here's how Jessica portrayed it:

Probably one of the most challenging topics in general chemistry is the mole concept, which is essentially a way of counting molecules or atoms. If you can figure out the number of moles of a chemical, you can use it to analyze a chemical equation. To do that, however, you need to determine how the moles of one chemical relate to the moles of the other chemicals in the equation. I call that developing "a mole relationship." Here's how Jessica portrayed that oft-repeated phrase:

The character on the right is called "The Guy Who Hates Mole Jokes." This one features him as well: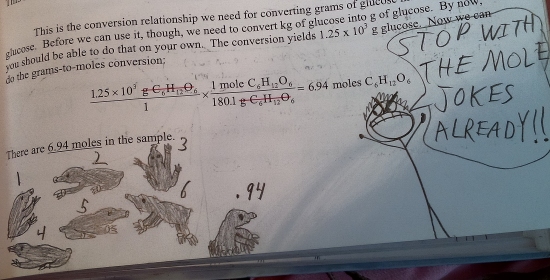 Jessica sent several wonderful cartoons, but I will end with just one more. When I am teaching a topic that requires a lot of mathematical analysis, I find that it is best to introduce the math in the middle of the topic. I explain some of the concepts behind the topic, then I discuss the equations and how to apply them, and then I wrap it up by explaining what it all means. As a result, when I am done with the math, the students can solve the equations, but they don't fully understand what the solutions mean. At least not yet. Thus, they often have a number to which they can't assign any real meaning. At that point, I often say something like, "This number doesn't mean anything to you, but that's okay." I then go on to say that eventually, the student will understand what the number actually means. Here's how Jessica portrayed that one:

While I doubt that anyone finds these as funny as I do, I suspect that other students who have suffered through my chemistry and physics courses (both in high school and at the university level) will appreciate them!
NOTE: I asked for and received Jessica's permission to use her drawings in this post. I also offered to send her the post prior to publication, but she said that wasn't necessary. I hope she enjoys it!