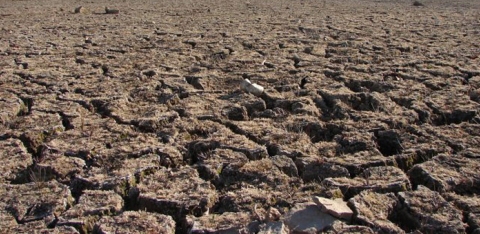 One of the common predictions made by people who believe in catastrophic global warming (aka "climate change") is that as the globe's temperature rises, there will be more and more droughts. As one book on global warming puts it:1
Extreme drought is one of the expected consequences of increased global warming, especially in the American Southwest, where it has already been projected to be severe by several models.
I have already written about the fact that actual observations show the precise opposite for the American Southwest. But what about the globe as a whole? Perhaps the American Southwest is not behaving as global warming enthusiasts predicted, but that doesn't mean droughts aren't increasing in other parts of the world. Surely the global warming that has already happened has produced drier conditions on the earth as a whole, right? After all, that's what the climate modelers have predicted.
For example, the British government funded a study on global warming and drought by climatologists at the Hadley Centre for Climate Prediction and Research. The study, which was published in 2006, made the following prediction:2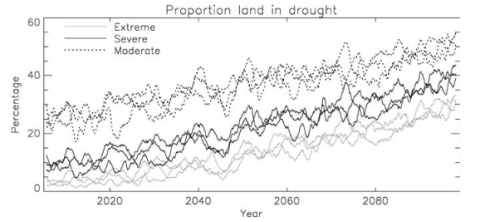 Notice that the amount of land around the globe which experiences moderate to extreme drought was projected to increase in a shaky but consistent fashion throughout the 21st century. Is that what's actually happening?
The answer is, "No." A recent study from the University of California Irvine was published in the Nature journal that is aptly named Scientific Data. The authors integrated data on soil moisture and precipitation from several different sources for June of 1982 through June of 2012. They characterized droughts with 5 different levels (D0-D4), with D0 being the mildest of droughts and D4 being the most severe. Here are their results:3

Notice that there has been very little change in the percentage of the globe experiencing drought over this 30-year time period. While clearly not statistically significant, the only trend seen in the data is a slight decrease in the percentage of land that experienced drought.
If global warming is really supposed to be happening, as many scientists and politicians assure us, where is the increase in drought that is supposed to accompany it? Of course, one possible answer is that global warming hasn't gotten severe enough to produce an increase in droughts. As time goes on and global warming increases, the droughts will follow. There are two other possibilities, however:
(a) Global warming is not really happening, at least not in any way that will affect global climate in a significant fashion.
OR
(b) Global warming will not affect the frequency or severity of droughts.
I find either of those two possibilities to be much more likely.
REFERENCES
1. Julie Kerr Casper, Global Warming Trends: Ecological Footprints, (Facts on File, Inc. 2009), p. 157.
Return to Text
2. Burke, Eleanor J., Simon J. Brown, Nikolaos Christidis, "Modeling the Recent Evolution of Global Drought and Projections for the Twenty-First Century with the Hadley Centre Climate Model," Journal of Hydrometeorology, 7:1113–1125, 2006.
Return to Text
3. Zengchao Hao, Amir AghaKouchak, Navid Nakhjiri and Alireza Farahmand, "Global integrated drought monitoring and prediction system," Scientific Data ​doi:10.1038/sdata.2014.1, 2014.
Return to Text