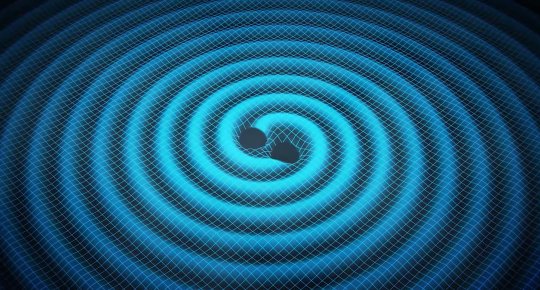 Einstein's General Theory of Relativity makes some outlandish claims. For example, it says that the rate at which time passes depends on the strength of the gravitational field to which you are being exposed. It also says that gravity isn't really a force. Instead, it is a consequence of how massive bodies warp spacetime, a four-dimensional mesh in which the three dimensions of space are merged with time. When I first read about this wild theory, the scientist in me was very skeptical. However, its predictions have been verified time and time again, so the scientist in me is forced to accept it as a reasonable description of the natural world.
For example, the global positioning system (GPS) must take relativity into account in order to work properly. Because they are farther from the center of the earth, the satellites that make up the GPS experience a lower force of gravity than we do on the surface of the earth. As a result, time passes more quickly for them than it does for us. If this were not taken into account, the GPS couldn't accurately determine your absolute position on the surface of the earth.1 (There are many other factors that must be taken into account, including the effect of relative motion on time, but that is a part of Einstein's Special Theory of Relativity and is not related to this post.)
Of course, there are many other confirmations of Einstein's General Theory of Relativity. Mercury's closest approach to the sun is best explained by general relativity. General relativity gives the only correct description of how a massive object bends the path of light. An experiment first done in 1959 showed that gravity causes a shift in the wavelength of light, which was predicted by general relativity. More recently, satellites confirmed a process called frame dragging, which is also a prediction of general relativity.
Just a few days ago, Physical Review Letters published a paper that provides yet another confirmation of general relativity, but this one is more important than many of the others.
In Einstein's view of the universe, we are embedded in a four-dimensional mesh called spacetime. Anything with mass warps this mesh, and that produces the effect we call gravity. Two massive objects accelerate towards one another not because there is a force acting between them, but because the way they warp spacetime requires that they accelerate towards one another. Well, because massive objects warp spacetime, their motion should send ripples (gravitational waves) through that mesh.
Unfortunately, these waves are predicted to be very small, so they are incredibly hard to detect. Nevertheless, physicists at the Laser Interferometer Gravitational-Wave Observatory (LIGO) set out to find them. They built two L-shaped detectors, each of which is 4 kilometers long. Laser light is bounced back and forth in the detectors. If everything is stable, the laser light overlaps. If something "wiggles" the detector (including a gravitational wave) the laser light won't overlap perfectly, and a signal is generated.
Of course, there are a lot of things that can wiggle the detectors, such as earthquakes, the movement of heavy traffic outside, and even the crash of waves on the shoreline. Lots of things are done to reduce the importance of such effects, but one of the most crucial is that the two detectors are placed about 3,000 kilometers apart from one another. If they both see the same signal, the time between those two signals can tell the physicists the speed at which whatever caused the signal is moving. To me, that's the most important part of this experiment.
On September 14, 2015 at 09:50:45 UTC, both detectors recorded the same signal. This isn't unusual. Even when things are working perfectly, the detectors get signals from all sorts of unexpected "wiggles." In addition, the system is set up to generate false signals from time-to-time in order to see if the scientists analyzing the experiment are being careful enough to weed out false positives.
In this case, the signal wasn't a false positive, and the two detectors saw the same signal about 0.007 seconds apart from one another.2 There is some error associated with the time measurement, but it is consistent with something that is traveling at the speed of light. Waves from earthquakes, traffic, and surf cannot travel at the speed of light. However, gravity waves are supposed to. It is hard to imagine any other explanation for essentially identical signals produced by something traveling at the speed of light.
Based on the characteristics of the signals, the scientists estimate that the gravity waves were produced by two black holes that are 29 and 36 times as massive as our sun spiraling towards one another and merging, as depicted in the drawing above. That's two really massive objects experiencing a violent "collision," but they produced such a weak signal that it took two 4-kilometer-long detectors to observe it. That should tell you something about how difficult it is to detect gravity waves!
As an experimental feat alone, then, this result is incredible. However, it is also a very important confirmation of general relativity. First, I don't know of a nonrelativistic theory of gravity that predicts gravitational waves. More importantly, however, this directly confirms Einstein's view of the universe. Based on this measurement, we really do live embedded in a mesh of spacetime, and massive objects really do warp it. Gravitational waves set Einstein's theory of gravity apart from any other gravitational theory of which I am aware, and that makes this measurement incredibly important.
Now, of course, this is just one measurement. It is always possible that it is the result of some strange error that no one has considered. However, if this result is real, there should be more violent collisions of massive objects in the universe, so LIGO should see more signals as time goes on. If so, this will probably be known as one of the most important confirmations of Einstein's General Theory of Relativity.
REFERENCES
1. Neil Ashby, "Relativity and the Global Positioning System," Physics Today, May 2002, pp. 41-47
Return to Text
2. LIGO Scientific Collaboration and Virgo Collaboration, Neil Ashby, "Observation of Gravitational Waves from a Binary Black Hole Merger," Physical Review Letters, 116:061102, 2016
Return to Text