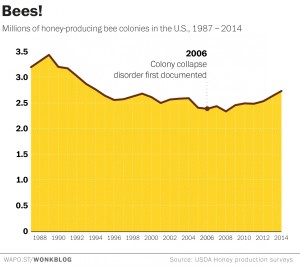 Have you seen the headlines? "Beekeepers Feel the Sting of Climate Change," "Climate change crushes bee populations," and "Bees Are Losing Their Habitat Because of Climate Change." Yes, the world is running out of bees and "climate change" aka "global warming" is to blame. Of course, the science behind the entire concept of human-induced, catastrophic climate change is shaky at best, so it is hard to understand how anyone can take such headlines seriously. Nevertheless, there are those who think that bees are on their way to extinction, and human-induced climate change is to blame. Of course, like most of the statements made by global warming alarmists, the facts tell us something completely different.
An excellent article published in the journal Science, for example, tells us that the main reason honeybee colonies have struggled recently is because of the spread of a virus called the deformed wing virus. It is carried by a mite called Varroa destructor, which has been infesting Asian honeybee colonies since at least the 1960s. When European honeybees were introduced to Asia, the mite was able to jump to the European species, and as a result, it began spreading around the world.1
Why should we care about bees dying off? Because they are very important pollinators. In order for a flowering plant to produce fruit, pollen from one flower must travel to another flower and fertilize the egg cells found there. While wind can carry pollen, insects are much more efficient at the job. Bees are especially important when it comes to pollination. They are the main pollinators of 130 crop species in the United States and 400 crop species worldwide.2 Bees are so important that a French periodical for beekeepers reported:3
Professor Einstein, the learned scientist, once calculated that if all bees disappeared off the earth, four years later all humans would also have disappeared.
In fact, Einstein made no such calculation, and although a version of that quote is attributed to Einstein, there is no evidence he actually said or wrote anything of the kind. Nevertheless, bees are very important to humanity.
So, of course, if the number of bee colonies was decreasing, there would be great cause for alarm. Fortunately, it is not. Because they are so important to agriculture, the USDA tracks the number of bee colonies in the United States each year. The graph shown at the top of this post illustrates what the USDA has found. While the number of bee colonies in the U.S. decreased steadily from 1989 to 2008, they have recovered since. Their 2014 numbers are roughly equivalent to their 1994 numbers. So while bee colonies haven't completely recovered from their decline, they are certainly doing better than they have done in the past decade or so.
Like most of the nonsense that global warming alarmists try to promote, the idea that honeybee populations are on the verge of collapsing simply cannot be supported by the scientific data.
REFERENCES
1. Ethel M. Villalobos, "The Mite That Jumped, the Bee That Traveled, The Disease That Followed," Science 351:554-556, 2016.
Return to Text
2. Bee Pollination in Agricultural Ecosystems, Rosalind James (Ed.), Oxford University press 2008, p. 145
Return to Text
3. As cited in The Irish Beekeeper, 19-20:74, 1965-66
Return to Text