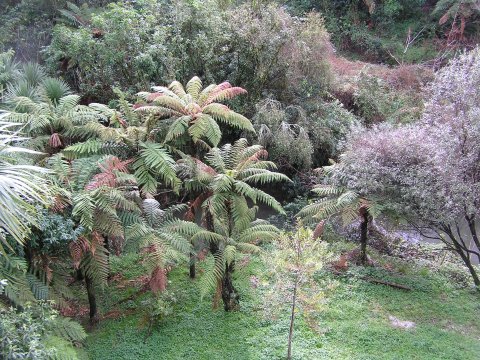 I am currently in New Zealand on a homeschooling tour arranged by the Firelight Foundation. This is not my first visit to this lovely country, and it most certainly won't be my last. In 2006, my wife (Kathleen) and I traveled here to do our first "Kiwi" homeschooling tour, and in 2009, we came back here to celebrate our 25th wedding anniversary. Each time I am here, I am struck by two things. First, this has to be one of the most beautiful places on earth. The plant life is lush, the air smells amazing, and the landscape is truly breathtaking. Second, the people are incredible. Everyone is particularly friendly and helpful. They really give you the impression that they want to help you enjoy your stay here. Of course, working with homeschoolers in New Zealand is a double blessing, because I get to see how home education produces such stellar students regardless of the country in which it is taking place.
My first stop on this New Zealand homeschooling tour was the lovely town of Palmerston North. Situated in the Southern part of the North Island, it is New Zealand's seventh largest city, and the venue at which I spoke was packed. I gave a total of six talks (two in one evening and four during the next day), and as you would expect from an audience of homeschoolers, there were some excellent questions. I want to discuss two of them.
One of the best questions I got was from a homeschooling teen named Eve. I had been speaking on global warming and the lack of evidence for it. I told the audience that this is particularly annoying, since we have real environmental problems that need serious attention. Unfortunately, global warming hysteria is taking money and resources away from the effort to fix those real environmental problems. During the question/answer session, Eve asked, "Since the oceans are where most of earth's photosynthesis takes place, shouldn't we concentrate our environmental efforts on protecting them?"
I told her that her question was really insightful. First, many students are under the mistaken impression that trees (or other plant life) are responsible for most of the photosynthesis that takes place on earth. However, that is just not true. Most of the photosynthesis on earth is done by algae and other marine organisms. Eve understood that. Second, she realized that because photosynthesis is the base of the entire food web that keeps us alive, it is crucial to protect that.
After telling her how insightful her question was, I answered it with a resounding "YES!" In fact, many of our real environmental problems are found in the ocean. Essentially, humanity has been using the ocean as its community toilet for far too long, and it needs to be stopped. A tiny fraction of the money and resources devoted to global warming could make a significant difference when it comes to cleaning up our oceans. In addition, fishing laws that are on the books in most countries are rarely enforced. This has caused a frightening loss of marine biodiversity. Once again, it would take only a bit of money and effort to simply enforce the laws that already exist and are designed to stop this from happening.
The second question I got was after my talk, "What Are They Doing Now?" In this talk, I discussed some of the amazing homeschool graduates I know and what they are doing to change the world. I discussed graduates from the U.S., Canada, and New Zealand, and in their own way, each was incredibly impressive. One of the New Zealand homeschool graduates, for example, had won the Aimes IT award three times and had already published 26 academic papers, despite the fact that he wasn't quite finished with graduate school yet! At the end of the talk, a mother asked, "What about the students who aren't academically oriented? Why didn't you mention them?"
I told her that I had, indeed, mentioned one such student. I hadn't pointed out that the young lady was not very academically oriented, because I didn't see it as relevant. Instead, what she did with her life was relevant. Right out of homeschool, she traveled to Africa to work in an orphanage for abandoned children. This wasn't part of an organized trip or something like that. She just felt the Lord call her to help those poor, hopeless children, so that's what she did. That's the beauty of homeschooling. This young lady was less academically-oriented and more people-oriented. As a result, her parents tailored her education to develop her people-oriented talents, and that allowed her to go overseas and make at least one small part of the world a much better place!
Homeschooling parents understand that each child is different, so each child's education must be different. Academic superstars need one kind of education, while those who struggle academically need a completely different kind of education. Homeschooling can provide each of those kinds of students (and all the kinds in between) with exactly what they need!