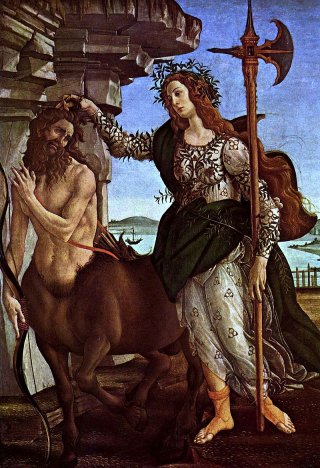 A Facebook friend posted this article on my timeline, and then a reader of this blog sent me an email that included the same article plus this one. Both articles report on experiments that will attempt to produce human/animal hybrids. This idea obviously makes a lot of people uneasy, so I thought I would explore it a bit here.
First, let's make sure we know exactly what these experiments are trying to accomplish. They are not trying to make some human/animal hybrid like the centaur pictured on the left. Instead, they want to take animal embryos and edit out key genes necessary for the animal to grow a specific organ. They then want to inject pluripotent human stem cells into the embryo. Since pluripotent stem cells have the ability to become any kind of cell, the thought is that the human pluripotent stem cells would grow the organ that the animal embryo cannot grow, resulting in an animal embryo that is growing a human organ. So this is less of a human/animal hybrid and more of an animal/human chimera.
Why would anyone want to do this? Well, it is estimated that more than 7,000 people die every year because they need a transplant but cannot get the necessary organ. This process would greatly increase the pool of organs available for transplant, thus saving many people's lives.
Now to put this in perspective, we already know that there are human/human chimeras which occur naturally. We know that when a woman is pregnant, some of the baby's cells get inside the mother and can stay long after the child is born. In addition, the mother's cells get into the baby and can stay there for a long time as well. There is also evidence that a baby can contribute stem cells to his or her mother in an attempt to aid the mother when she has heart troubles. Thus, for at least a long while, pregnant women and babies are chimeras, each harboring some of the other's cells.
Of course, animal/human chimeras are quite different, since they mix species. Is it ethical to attempt to make them? Well, first we have to worry about the source of the human stem cells. Political propaganda that is pretty much devoid of scientific reasoning would have you believe that the only really pluripotent stem cells are the ones harvested from embryos. That process murders the embryo, so clearly, the acquisition of such stem cells is utterly immoral. Fortunately, science tells us that adult stem cells, which can be removed from the body without murder, are pluripotent and very effective. Science also tells us that normal cells can be induced into becoming pluripotent stem cells. So if the human stem cells are adult stem cells or induced pluripotent stem cells, at least no murder is involved.
But what about producing an animal embryo that has a human organ in it? Even if the human stem cells used are ethical, is the product ethical? I honestly don't know. Obviously, the animal embryo will die, because once the organ is harvested, the animal won't be able to survive. However, we kill animals all the time to allow us to have better lives, so I don't see that as a problem. However, the idea of having a human organ in an animal is, at least, unsettling.
Once again, however, to put things into perspective, this isn't new research. Indeed, the scientist who plans on making monkey/human chimeras has already tried to do it with pigs and induced pluripotent stem cells, and it didn't go well. While a few of the human cells survived, they didn't contribute to the pig embryo in any meaningful way. The scientist thinks that monkeys might work better, since they are more genetically similar to humans.
I am interested to hear what my readers think. As mathematician Ian Malcom says in the only good Jurassic Park movie:
Your scientists were so preoccupied with whether or not they could, they didn't stop to think if they should.
Do you think that scientists should? Why or why not?