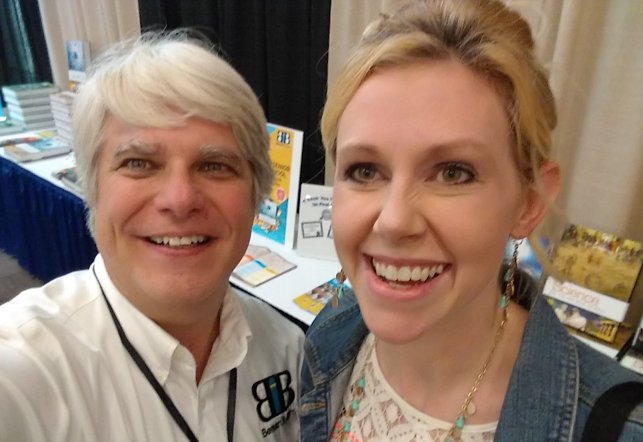 This is "convention season" for homeschoolers across the United States, so I have been traveling to several different homeschool conventions, giving talks and speaking individually with lots of homeschooling parents. In some ways, these conventions never change. Many of the talks that I give are on the same topics that I spoke about at homeschooling conventions more than 20 years ago: how to "teach" science at home, why it is best for most students to be homeschooled through high school, and the fact that homeschooling produces graduates who are, on average, significantly better university students. Obviously, the details of the talks change every few years, but the basic points do not.
In the same way, many of the questions I get from homeschoolers are the same year after year and convention after convention. My son is only in 7th grade but is about to start Algebra 1. Should he really take high school biology? (In general, the answer is "yes," but it depends on the student's ability to work independently and how he reacts to academic rigor.) If he does take biology in 7th grade, can it be included on the high school transcript? (Once again, the answer is "yes." See this article for more details.) My daughter is very talented in ballet and wants to pursue it as a career, but it requires a lot of rehearsal time. What should I do? (If a professional says that she has real potential, then you should scale back her other academic courses so that she can pursue her talents. Don't neglect her education; just pare it down to the basic essentials so that she can have more time to hone her craft).
At the same time, however, each year brings a few changes. Some of the conventions that used to be large and well-attended are either very small or nonexistent. Other conventions that didn't exist many years ago are now large and well-attended. Lots of new curricula are available, giving homeschoolers a wealth of choices for how to meet their children's educational needs. The people you see at homeschooling conventions are also becoming more and more diverse every year.
This year, I noticed a new difference. Most likely, the difference has been slowly growing over a period of many years, but after speaking at the California Homeschool Convention this past weekend, it struck me that this year, I have interacted with a lot of second-generation homeschoolers (homeschool graduates who are now homeschooling their own children).
Of course, I have probably been interacting with second-generation homeschoolers for a long time, but for whatever reason, they are now identifying themselves to me. In every convention I have attended this year, at least one (usually several) young parents tell me that they used my curriuculum when they were homeschooled students and are now using it to homeschool their own children. While speaking with these amazing people, I made some observations that I would like to share.
They seem to be less dogmatic than the first generation of homeschoolers. Many first-generation homeschooling parents are very concerned that the worldview presented in the curriculum they use matches their own. They ask me detailed questions about how I treat evolution, the age of the earth, etc. The second-generation homeschooling parents who identified themselves to me also asked detailed questions, but it was usually to make sure that I give an adequate treatment to the "other side" of issues. They want to educate their children with their worldview, but they also want their children to practice critical thinking. I really like that!*
They plan ahead. Many of the first-generation homeschoolers I meet are focused on getting through the next year. The second-generation homeschoolers are trying to see how next-year's plan fits into a long-term educational strategy. At the California Homeschool Convention, for example, I met a homeschool graduate who happens to read this blog. He and his wife attended the convention, even though they don't have any children yet! His wife was not homeschooled, and he wanted her to get an idea of what homeschooling was all about so that she could help him make an informed decision about education once they started having children. As a side benefit, she told him that it helped her to understand him a little better.
They are really glad that they were homeschooled. In one sense, that goes without saying. Obviously, they wouldn't be homeschooling their own children if they didn't think homeschooling worked well for them. However, they seem genuinely enthusiastic about their homeschool experience and have a strong desire to replicate that enthusiasm in their own children. I can imagine graduating from a private school and being pleased with how it prepared me for university. If that were to happen, I would probably send my children to that same school, if I were still living nearby. However, I can't imagine being as enthusiastic about it as these second-generation homeschoolers are about homeschooling their children.
They are not intimidated by serious academics. Because I write science courses, I get a varied reactions from homeschooling parents. Some hate science and don't want to teach it. Some want to teach it but feel completely unable to do so. Some want science to be "simple." A few of them love science and want their children to love it and learn it in the most rigorous way possible. In general, the second-generation homeschoolers are more likely to be in that last category. The same goes for math, another "dreaded" subject among many homeschoolers. These second-generation homeschoolers don't shy away from the challenge of helping their children learn subjects that can be academically rigorous.
Now, of course, all of these impressions are based on my personal interactions, so they aren't the result of any kind of serious study. Nevertheless, based on these interactions, I think the future of homeschooling is very bright!
NOTE: I received this as a Facebook message from a second-generation homeschooler, and I think it adds a good insight:
"I am a one who graduated in 96 and there are several 2nd gens in our old, well established homeschool support group. I think we are enthusiastically conservative and want to raise our kids to have a Christian worldview BUT we do not seem to be as fearful as the previous generation was about certain things. We also tend to more picky about things like NOT doing conventional "school" at home (I think we are more confident about educational philosophy). We want to prepare our children for the world that actually exists. Unfortunately a lot of 1st gen, older parents in leadership tend to think our lack of fear about exposure to certain things means we are too liberal! Or that our criticism of certain older, popular homeschool curriculum is akin to betrayal or rejection of conservative homeschooling…Older homeschool leaders need to see that just because we do not have the exact same concerns as the first generation, does not mean the second gen homeschoolers are too "liberal." We just sometimes have a different approach to education based on our experiences."