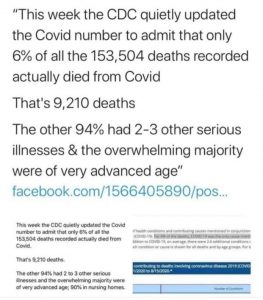 On Saturday, I received the image on the left from a well-meaning individual. She wanted me to see that we have been fooled regarding the severity of the virus that causes COVID-19. By Sunday, this image (or one like it) was all over my Facebook feed. Please understand that the statement starts out as completely false and then uses true statements to imply something else that is completely false. Unfortunately, it tends to resonate with people who do not understand medical science and who have not been personally affected by the pandemic. As I watched this lie literally spread around the world, I couldn't help but think of Jonathan Swift's famous statement1
Falsehood flies, and the Truth comes limping after it.
Here is my attempt to get the truth to come limping after this falsehood.
Let's start with the first lie. The CDC has not "quietly updated" the numbers to "admit" something. The CDC has been regularly updating the numbers in the same place since the pandemic began. In addition, they have been saying that 94% of COVID-19 deaths were in patients with underlying conditions since at least April 3rd. That's nothing new to anyone who has done even a little investigation into the matter.
More importantly, this image is meant to imply that COVID-19 is not dangerous because the vast majority of people who die from it have some other illness. Once again, that is simply 100% false. If you look at the underlying conditions that are included in the 94% (table 3 in the link above), you find things like high blood pressure (hypertensive diseases), diabetes, obesity, etc. The image tries to categorize them as "serious illnesses," and depending on the person, they might be. However, they are present in a large percentage of the population. 45 percent of adults in the U.S. have a hypertensive disease, 10 percent of the U.S. population have diabetes, and 42 percent have obesity. Thus, a huge number of people in the U.S. have at least one of the "serious illnesses" that make you likely to die from COVID-19. In other words, there are many, many people at risk of death from COVID-19.
But how can we say that these people died of COVID-19 when they had some other condition? Because most of these conditions are completely treatable and will not generally kill a person. However, when that person gets an infection, the underlying condition makes it harder for his or her body to fight off the infection, leading to death. The more serious the infection, the more likely the person is to die. In fact, the majority of people who die of an infection like influenza, pneumonia, tuberculosis, etc. have an underlying condition that makes it more difficult for them to fight off the infection. Thus, it is not even remotely unusual that 94% of people who die from COVID-19 had one or more underlying conditions. It is common for many serious infectious diseases, especially in the developed world.
There is one more issue in the image above that I must address. It says that the overwhelming majority of people who died from COVID-19 were of advanced age. That's true, but it's true for all deaths in the developed world, not just COVID-19 deaths. Indeed, a recent study compared the ages of people who died from COVID-19 to those who died from all causes. Guess what? They were quite similar:
In fact, the age distribution of deaths attributed to COVID-19 is quite similar to that of all-cause mortality, which tends to increase by about 10% every year of age after age 30 y.
We don't know a lot about COVID-19, and there is no way to scientifically state the best cause of action against the disease at this time. However, we do know that it is a very serious disease, and it is being downplayed by some using falsehoods like the image above. Please stop the misinformation! If you want to share something about COVID-19, at least make sure it doesn't communicate something blatantly false, like the image above does.
ADDENDUM (added 9/4/2020): Someone on a friend's Facebook feed wrote an incredibly insightful comment that I must share. She said that if you really think that the only COVID-19 deaths are the ones that had COVID-19 as the sole cause, then you must think that AIDS has a mortality rate of zero!
REFERENCES
1. The Examiner, Number 15 November 2 to November 9, 1710, (Article by Jonathan Swift), Page 2, Column 1, Printed for John Morphew, near Stationers-Hall, London.
Return to Text