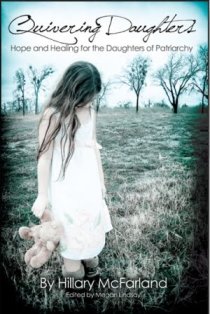 This book is nothing short of amazing. It was written by a woman who grew up in the "patriarchy movement," which is gaining popularity in the homeschooling community. In essence, the patriarchy movement suggests that if you follow a basic formula that includes parental authority, emphasis on family, homeschooling, and adherence to the "divinely-ordained" roles of the man as the head-of-the-house/breadwinner and the woman as the keeper-of-the-house/helpmeet, you will be rewarded with a legacy of godly children. Those in this movement say that children are a blessing, and God should determine how many children you have. Thus, many in this movement have very large families. Since Psalm 127:3-5 says, "Behold, children are a gift of the LORD…Like arrows in the hand of a warrior…How blessed is the man whose quiver is full of them," people will often refer to such families as "quiverfull" families, and that's where the title of this book comes from.
Why is this book nothing short of amazing? Actually, there are several reasons. First, it is really intended for a very limited audience: women who grew up in the patriarchy movement and were harmed by it. Please note the "and" in that sentence. While the author was clearly harmed by the patriarchy movement, she does not contend that all women are harmed through it. This is actually one of the amazing aspects of the book. The author has every right to feel angry towards the patriarchy movement and those who promote it, but she doesn't express any anger at all. To be sure, she discusses in several places why the patriarchy movement is unBiblical, but she never once condemns the people leading it or participating in it. I find that quite laudable.
The book is also amazing because even though it is intended for a very limited audience, it actually affected me in a profound way. Being neither a woman nor someone who grew up in the patriarchy movement, I still learned a great deal from it. In fact, I strongly recommend it to all fathers who have daughters. I truly wish this book had been around a long time ago. If I had been able to read it before I adopted my little girl, I would have been a better father to her.
The book is essentially the author's story of the pain she experienced growing up in a patriarchal regime. However, it is also filled with quotes and stories from other "quivering daughters." The way she weaves her story with the experiences of other women like her is almost mesmerizing.
It starts out a bit dry, with an academic essay by Rachel D. Ramer on the patriarchy movement. It discusses the general characteristics of people in the patriarchy movement as well as some of its more disturbing aspects. Thankfully, Ramer makes a clear distinction between homeschoolers and patriarchal families. While all members of the patriarchal movement are homeschoolers, not all homeschoolers are a part of the patriarchal movement.
With the dry stuff out of the way, the author dives into some very tragic, very personal issues. Using her own diary entries from when she was a child, she details some of the horrible things in her life that were brought on by living in a patriarchal family. Continuing the theme of working through the pain without condemning those responsible, she says that the diary itself is a reminder of the love she has for her father and that it is the best gift she has received from anyone, except God and her husband.
Once you have gotten a good idea what it was like for her growing up, she fast forwards to an episode in her adult life that brought me to tears. I sat on a beach chair on the shore of Lake Michigan and wept like a schoolboy when I read this:
A few years ago, I found an old family picture taken when I was thirteen. I stared at myself, at my shapeless face, awkward body, weird clothes, frizzy hair, and red cheeks. I couldn't stop the thought – it lurched from some deep, raw place and assaulted her, the girl in the photo, with a lifetime's accumulation of disgust.
You. Are. So. Ugly. (p. 23 – emphasis hers)
Think about that for a moment. Almost every girl thinks she is ugly (at least for a time) while she is growing up. However, as adults, most grow out of that idea. This young woman's childhood was filled over and over with the lesson that she was an ugly, worthless girl. Indeed, this was drilled into her so deeply that even as an adult, she could not think of anything else when looking at a childhood photo. I would not wish that kind of childhood on my worst enemy.
But wait a minute. Patriarchal families constantly say that children are a blessing. Why would a family that sees children as a blessing treat this woman so badly when she was a child? She addresses that question with keen insight:
While Quiverfull teaching exalts children as supreme blessings, it doesn't reveal its grim underside – the silent reality that takes place in hundreds of homes every day and of which I learned: I am only a blessing when I am useful, helpful, obedient, kind, unselfish, submissive, compliant, and responsible. And only these kinds of blessings deserve love… (p. 13)
I grieve for this young woman and those like her. Children are definitely a blessing, no matter what. They also deserve unconditional love.
Now I told you that this book profoundly affected me. It wasn't just that it brought tears to my eyes on more than one occasion. It affected me on a much more serious level. While the author is telling her story, she gives a lot of good advice about what daughters need in order to thrive. For example, she says:
Want to know how a daughter should be treated? A little girl should feel safe. She should feel that her mind, body, and heart are all tucked in at night…A little girl should feel wanted…and not be required to learn survival and fear as a constant way of life. A little girl should be encouraged, not broken. (p. 153)
I honestly wish I had the benefit of this author's wisdom before I adopted my little girl. Even though I probably did a lot of what she suggests simply because I deeply love my daughter, if I had been consciously aware of a little girl's needs in the vivid way this author describes them, I probably could have done a better job.
Here's the bottom line. When I got done reading this book, I dried my eyes, screwed up my courage, and called my little girl, who is now an adult. I apologized to her for any mean thing I said to her while she was growing up, and I apologized for anything I might have done to make her feel unwanted, unsafe, unloved, or broken. A little girl is a precious thing, and like most precious things, she needs to be handled with extreme care. I think I would have been a bit more careful with my own daughter if this book had been around 17 years ago.