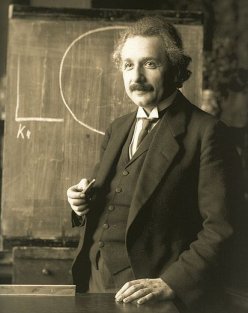 Einstein's theories of relativity have fundamentally changed the way scientists view reality. This bothers some, which is why you can find creationists who desperately try to fight against them. These attacks often strike a chord since most people (even many scientists) know little about these revolutionary theories. Partly, this is because the theories are difficult to understand. In addition, they often deal with things that are not a part of everyday experience, such as extremely high speeds or unusual gravitational fields. Nevertheless, both theories are immensely important to some everyday items. For example, if you use a GPS device for navigation, that device would not work properly if the global positioning system did not use relativity correctly.
To understand what I mean, you first need to know that Einstein proposed two separate theories of relativity. Special relativity deals with systems that move relative to one another with a constant velocity. General relativity deals with systems that move relative to one another with a variable velocity. In each theory, Einstein's only concern is that the laws of physics must work the same in both systems, regardless of the fact that they are moving relative to one another. While this seems like a common-sense idea, it leads to conclusions that make little sense.
Special relativity, for example, tells us that when objects move relative to one another, time passes differently for each object. The faster that relative motion is, the more pronounced the difference in the way time passes. For example, if a man gets in a spacecraft that travels at speeds close to the speed of light, time passes very slowly for him relative to those he left behind on earth. As a result, when he returns home, those he left behind might have aged many years, despite the fact that for him, the trip lasted only a few months.
General relativity makes conclusions that are even more strange. For example, general relativity tells us that time passes differently for objects in different gravitational fields. The stronger the field, the more slowly time passes. If a man were to travel to Mercury, for example, time would pass slowly for him compared to those he left behind on earth, because Mercury is so close to the sun that it experiences a larger gravitational field.
Now in general, people don't travel at speeds high enough to notice how their motion affects the way time passes. In the same way, the gravitational fields we experience on earth are not variable enough to notice how they affect the way time passes. Both of these effects are important in the global positioning system (GPS), however. The satellites used in the GPS travel at high enough speeds that time really does move more slowly for them than it does for us on earth. They also are exposed to a weaker gravitational field than we are, because they are much farther from the center of the earth. As a result, time passes more quickly for them than it does for us. It turns out that this effect is the stronger of the two, so in total, time passes more quickly for the GPS satellites than it does for us here on earth. If both effects were not properly taken into account, your GPS navigational system would not work correctly.1
The important thing to realize, however, is that these effects are real regardless of how fast you are traveling or how much the gravitational field to which you are exposed is varied. It's just that for most everyday experiences, they are simply too small to be measured…until now! Chou and colleagues have used optical clocks to measure the difference in how time passes between two objects that move at speeds as low as 4 meters per second (about 9 miles per hour) relative to one another! In addition, they have measured the difference in how time passes when an object's elevation is changed by just 50 centimeters! Not surprisingly, the measured data agree with the predictions made by the equations of special and general relativity. 2
How were they able to perform such an amazing feat? Well, the experiment was very well designed, but the main reason is that optical clocks can provide a much more precise measurement of time than even atomic clocks. The optical clock they used, for example, was about 20 times more precise than the best atomic clock. Because of that, they were able to measure tiny difference in the rate at which time passes.
Now please understand that the importance of this study is not that it confirms the predictions of special and general relativity. Several such confirmations have already been made.3-6 Those studies, however, required either very high speeds (reference 5 used jets, for example) or relatively large differences in height (reference 4 spanned more than 70 feet). This study confirmed the predictions of general and special relativity under normal laboratory conditions.
Since I previously blogged about another confirmation of quantum mechanics, I should point out one more thing. The predictions of quantum mechanics have been confirmed over and over again in many experiments. In the same way, the predictions of general relativity have been confirmed by many experiments, albeit not as many as those that confirm quantum mechanics. However, you need to know that there are specific aspects of quantum mechanics that are in direct conflict with general relativity. One of the most important is how each theory treats the concept of time. Thus, while both have been confirmed by experiment, it is hard to understand how both can be completely correct.
That's the great thing about science. Even well-confirmed theories present us with entertaining mysteries.
References
1. N. Ashby and M. Weiss, "Global Positioning Receivers and Relativity," NIST Technical Note 1385, U.S Government Printing Office, March 1999
Return to Text
2. C. W. Chou, et al., Relativity and Optical Clocks, Science, 329:1630-1633, 2010.
Return to Text
3. B. Rossi and D. B. Hall, "Variation of the Rate of Decay of Mesotrons with Momentum," Phys. Rev 59:223-228, 1941
Return to Text
4. R. V. Pound and J. L. Snider, "Effect of Gravity on Nuclear Resonance," Phys. Rev. Lett. 13:539-540, 1964
Return to Text
5. J.C. Hafele and R. E. Keating, "Around the world atomic clocks: predicted relativistic time gains," Science 177:166, 1972 (this experiment was repeated on its 25th anniversary, and the results confirmed special and general relativity to an even higher degree of precision)
Return to Text
6. R.F.C. Vessot, et al., "Test of Relativistic Gravitation with a Space-Borne Hydrogen Maser Phys. Rev. Lett. 45:2081-2084, 1980
Return to Text