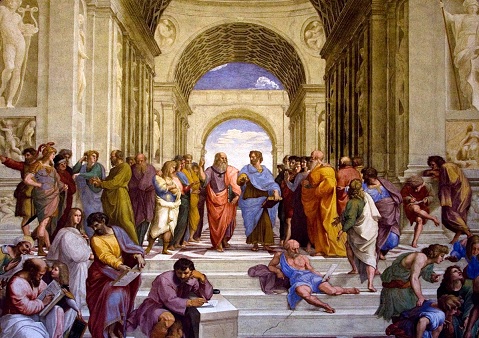 I have been writing an elementary science series that introduces science topics in roughly chronological order. Currently, two of the books are available, and the third is being printed as I type these words. The fourth is finished and is currently being reviewed by two science PhDs and one historian. I have just one more to write.
Now that I am near the end of the series, my publisher came up with a great idea. Since there are some excellent history courses that homeschoolers use at the elementary level, he suggested that I write a guide which synchronizes my elementary courses to them. That way, if a homeschooling family wants to, they can learn science and history side-by-side. I thought, "How hard can that be?" After all, my science is presented chronologically, and many of these history programs are presented chronologically. It should be easy to synchronize them, right?
Wrong! Science progressed slowly at first and then picked up steam as time went on. As a result, my courses speed through ancient history and the middle ages, slow down a bit in the renaissance, slow down even more in the Age of Reason, and will slow down even more after that. Understandably, this isn't how most history courses are paced.
In addition, my series spends an entire school year using the creation account to provide an overall view of science. Students spend 15 lessons on each creative day in the Genesis account so they have a brief introduction to all the areas of science. This forms a basis for them to then study science in the context of history. Some history programs don't deal with the creation account at all, and the ones that do spend only a short time on it.
Finally, my courses focus on the people who made the scientific discoveries. I try to introduce them in the order of their first major contribution to science, but then I discuss all their other scientific contributions before introducing the next person. Since most natural philosophers made contributions to science throughout the course of their lives, the order is not strictly chronological, especially in the later courses where science was progressing at a more rapid pace. This means the order in which I introduce certain people will be different from the order in which a history course might mention them.
As a result of these three issues, perfectly synchronizing my elementary series to a history course isn't very practical. Nevertheless, I did the best I could for three history series: The Mystery of History, Story of the World, and Tapestry of Grace, Diana Waring's history, and My Father's World. If you can think of another series you would like me to synchronize my series to, let me know.
Now that I have given you a long, drawn-out discussion of synchronization, let me give you what I consider to be the most practical way to cover history and science together. If you start Science in the Beginning when you start your history series, your science will always be behind your history. After all, you will be spending a year on the creation account, while the history course you are using will spend, at most, only a few weeks on it. If you then just move on to the next book in my series each time you move on to the next book in your history series, your science will review the history you have already learned. This will probably make your science a bit more relevant to the students, and it will probably reinforce some of the historical concepts you learned previously.