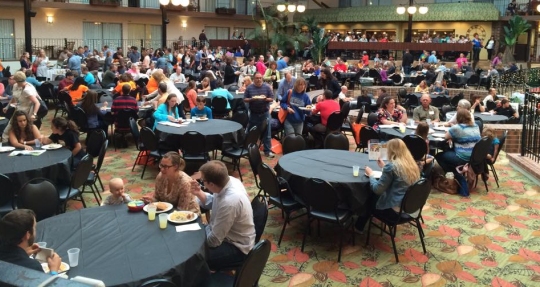 I spent this past weekend speaking at the Homeschool Iowa Conference. I had never been to this particular homeschool conference before, and I am so glad I got to go this year. The attendance was excellent, the conference ran smoothly, and the organizers treated the speakers incredibly well. My publisher's booth was right across from Heidi St. John's booth, and for the first time in quite a while, I got to spend some time talking with her and her husband, who has the world's best first name (Jay). They are both wonderful servants of God, and spending time with them is a real blessing.
I gave six talks at the conference: Homeschooling: The Solution to our Education Problem, 'Teaching' Science at Home, Building a Biblical Worldview, Ecohysteria, Creation Versus Evolution, and What I Learned by Homeschooling. They were very well attended, and I got some excellent questions afterwards. I also spent a lot of time taking with individuals, including several very impressive homeschooled students.
One particularly impressive student was a junior in high school. After one of my talks, she asked me to sign a couple of her books. I noticed that one of them was my advanced chemistry course, which is essentially AP-level chemistry. I told her that I was impressed she was taking advanced chemistry, and she told me that she had already taken my biology, chemistry, and physics courses as well as a Human Anatomy and Physiology course. Once she finished advanced chemistry, she planned to take advanced physics. This means that by the time she graduates, she will have covered the equivalent of three AP-level science courses in high school! I told her how impressive that is, since many high school students don't even take one AP-level science course. She was quite humble, however, brushing aside my praise and simply telling me that she really enjoys studying science.
Another student and his family spoke to me about their experience with the third edition of Exploring Creation with Chemistry. As you might know, I don't recommend that edition to anyone because of its many scientific errors and its habit of requiring students to know things they have not yet been taught. The student told me that he had started with the third edition of the the course, not knowing that I wasn't the author. As he tried to cover the material, he got more and more confused. Eventually, he realized that my name wasn't on the book, so he got online and found a used second edition of the course (which was authored by me). When he used that edition, he understood and enjoyed the material. I told him I was very sorry that he had to do that and, unfortunately, there are probably many students who have found themselves in a similar position.
I got several great questions after my talks. After one of them (I can't remember which), someone asked what it was like teaching on a university campus as a young-earth creationist. I told the person that I taught at two secular universities (Indiana University and Ball State University), and neither one of them were committed to academic freedom. As a result, I got a lot pushback for talking about the design that is obvious in both chemistry and physics. In addition, I personally think I was denied the opportunity to get tenure because of my creationist views, although that's nearly impossible to prove. Since then, I taught a chemistry class at Anderson University (a Christian university), which is very committed to academic freedom. I received no pushback there, even though the science faculty members hold a variety of views on origins.
During that answer, I also made the comment that there are very few Christian universities for which I would teach, because most of them require that you sign a statement that contains a long list of things the university requires you to believe. I said that I think such lists go against the fundamental mission of a university, which is to seek the truth. If you sign on to a long lists of beliefs, it seems to me that you are not really going to be seeking the truth, because there is a long list of things you are unwilling to question. Thankfully, Anderson University doesn't have one of those lists, so I am happy to teach there.
That comment led to another question from a homeschooling parent, which he asked me while I was at my publisher's booth. He said that he wanted to send his daughter to a Christian university that did have a long list of beliefs to which the faculty must agree, and he was surprised that I was against such lists. After all, he said, he wanted his daughter to have professors who would encourage the beliefs he was trying to instill in her, and he was afraid that if he sent her to a Christian school without such a requirement (or worse yet, a secular school), her professors would shake her faith to the point where she might abandon it.
I told this concerned father three things. First, research indicates that college is not a place where students abandon their faith. In fact, students who go to college are more likely to retain their faith than those who do not. In addition, those who go to college are more likely to say that it strengthened their faith rather than weakened it. The vast majority of the students in these studies attended secular colleges, so a college's requirements when it comes to its faculty's religious beliefs must not play a huge role in a student's attitudes towards his or her faith.
Second, while it is very tempting for us to make our children into little clones of ourselves, that's just not our job as parents. Our job is to raise our children so they can follow the Lord's calling on their own life. I didn't want my daughter to grow up to be a truck driver, for example. I wanted her to be a writer. However, I am glad that she is a truck driver, because I can see that for right now, it is exactly what she should be doing. The same goes for our children's religious faith. I tried to instill my beliefs in my daughter, but as she matured, she became a person in her own right, and she had to develop her own beliefs. While she and I disagree on a lot of things, I can see that God is moving in her life. She is not just parroting what I taught her. Instead, her faith is real enough that she has made it her own, and it is different from mine. That's a beautiful thing, and we have to let that happen, or we are not allowing God to work.
Third, a college student's friends will influence him or her significantly more than any set of professors, especially when it come to the student's deeply-held beliefs. Thus, if you want to make sure your child develops spiritually in college, you need to encourage him or her to have a lot of Christian friends. I strongly recommend that every college student becomes an active member of an on-campus Christian fellowship group. That way, the student will have access to other Christians who are trying to find God's calling in their lives. The student will also have access to upperclassmen who have already experienced "the atheist professor" and can help the student deal with such challenges.
Of course, all of this is predicated on the idea that the student in question is ready to start dealing with his or her faith in an adult way. That won't be true of all 18-year-olds. As a result, not all high school graduates should immediately go to college or into the real world. Part of our job as parents is to know our children well enough to know when it is time for them to begin the process of becoming an adult. They should not leave our care until they have reached that stage of their lives.