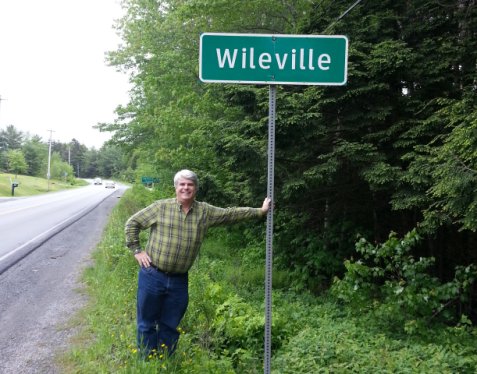 My Canadian tour came to a close in Nova Scotia, which actually has a place in my family's history. My father's ancestors came from Germany and settled there, forming a small town called "Wileville." As you can see, I got a chance to visit there. It's still a small town, and there wasn't much there except for a market/bakery and a gas station. Nevertheless, it was cool to see that nearly every street was named after a Wile, and there was even a lake called "Wile's Lake."
Of course, the main reason I was in Nova Scotia was to speak at the HEMS Homeschool Convention. It was another intimate convention that was held at an excellent facility and run by a group of incredibly dedicated home educators. One of the things I loved about the convention was that in addition to a vendor hall (where curriculum providers sold curriculum to those who needed it), there was also a "young entrepreneurs" section where young people could sell things that they had made. There was a wide variety of things to buy, from candy to plants. I ended up buying some cards from a very talented young photographer who started a photography business called Gracious Vignettes.
I gave a total of six talks at the convention, five of which were on Saturday. That's actually a lot of talking, and I even told the conference attendees that I expected to be bored with myself after giving so many talks. They were very gracious, however, thanking me over and over again for coming to their "little" convention. This seemed to be a theme at both of the conventions I spoke at in Canada. The organizers and even the attendees seemed to be constantly apologizing for how small their conventions were. They had heard of the mega-conventions in the U.S. and were sorry that their numbers couldn't measure up.
I hope I was able to dispel them of this notion. I think that big conventions and small conventions both have a role to play in home education. Big conventions can bring in lots of great speakers, and their vendor halls are simply brimming with choices when it comes to educational material. However, they can't be flexible. I remember when I spoke at the FPEA convention in May, Diana Waring and I had a great question from the audience, but before we were able to answer it, the hostess cut us off, because the convention had to stay on schedule. I completely understand why the hostess needed to do that, and it is a consequence of the convention being very large. In addition, I can't spend a lot of time speaking with a single individual at a big convention. In both of my Canadian conventions, however, I had long discussions with several homeschoolers who needed a lot of advice, and I was never cut off in any of my talks. That's the beauty of a small convention.
As usual, I had a lot of good questions at this convention. One homeschooling mother asked me how long a textbook is good for. In other words, how many years have to pass before a textbook becomes obsolete? That's a great question, because publishers sometimes produce new editions every few years, just to keep their new book sales high. Other publishers rarely come out with new editions. How often is it necessary for a home educator to think about buying a new textbook, despite the fact that she has an old textbook which covers the necessary material?
I told the mother that it really depends on the subject. Honestly, I think most biology texts are out of date in about 10 years. There is just so much that is being discovered on the cellular and molecular levels that even what we discuss in high school biology needs revamping every 10 years or so. However, when it comes to something like math, textbooks at the high school level hardly need updating at all, because at that level, nothing much is changing in the field of mathematics. In other subjects, like physics and chemistry, a textbook is probably good for 20 years or so. While lots of great discoveries are still being made in those fields, most of them don't touch on what is taught at the high school level. Of course, I am sure there are educators who would disagree with me on this, so don't take my words as any more than a suggestion.
Another homeschooling mother seemed very distressed about the fact that evolution is still taught in most schools today. She ended up asking several questions in one of my talks, and I continued the discussion with her privately afterwards. In the end, she just thought that there was no reason for evolution to be taught in schools, since there is "no evidence" for it. I tried to tell her that there is evidence for evolution. There is also evidence against it. That's why there is a controversy among scientists. If there were no evidence for it, I honestly think most scientists would look for some other hypothesis regarding origins. If there were no evidence against it, there wouldn't be an anti-evolution movement among scientists. However, there is a scientific controversy regarding evolution specifically because there is evidence for it and evidence against it.
Now as to why it is taught in schools, that answer is easy. The fact is that whether you believe in it or not, evolution is the reigning scientific dogma of the day. Obviously, the reigning scientific dogma of the day has to be taught in science class. Even in my creationist science texts, I teach the hypothesis of evolution. Unlike standard high school science texts, of course, I also discuss the evidence against evolution, but students who use my texts do learn the hypothesis. Indeed, many of the students who have used my texts and excelled at their university-level science courses report that they understood evolution better than most of their peers at university. Of course, they also know why there is a controversy about it, because they learned about the evidence that stands against it.
And honestly, I think that's the best kind of education a student can have. When you present science in the context of a controversy, I think students learn it better. Educational research seems to support this idea. If you are teaching your children in a creationist framework, I applaud you. However, don't teach them creationism to the exclusion of evolution. As they get older, they need to learn both sides of the story. Not only will it allow them to understand the reigning scientific dogma of the day, it will also allow them to learn the subject of origins better.