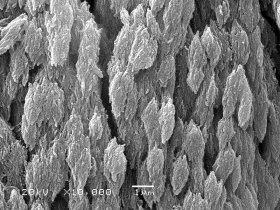 Bone is a truly incredible substance. It is as strong as steel but at as light as aluminum. Not only is it strong, but it is surprisingly flexible as well. As is the case with most things God made, human technology cannot come close to producing something with bone's amazing properties. Consider, for example, the work of Antoni Tomsia at Lawrence Berkeley National Laboratory in California. He and his colleagues are trying to artificially produce something with the characteristics of bone, but they simply cannot come up with anything as elegant and sophisticated as bone. He says:
People want a strong, light, and porous material, which is almost a contradiction in terms, but nature does it…Bone is made from calcium phosphate and collagen, which are both extremely weak. But nature mixes them together at room temperature and without toxic chemical [sic] to create something that is very tough — this fascinates us.
What makes bone so special? The short answer is that we don't really know. However, we are learning. For quite some time now we have known that bone is a mixture of many things, principal among them a protein called collagen and a calcium compound called hydroxyapatite. The collagen gives bone its flexibility, while the hydroxyapatite gives bone its strength.
However, the hydroxyapatite in bone is stronger than hydroxyapatite made in the lab. Why? It has to do with the size of the crystals. When hydroxyapatite is made artificially, the individual crystals that form are very large. In bone, the crystals are very small, on the order of 3 billionths of a meter long. These nanocrystals have long been thought to be the reason that hydroxyapatite in bone is so strong. However, scientists haven't been able to understand why the nanocrystals stay so small in bone.
Now Klaus Schmidt-Rohr and his colleagues might just have figured that part out!
Using nuclear magnetic resonance spectroscopy (the same basic technology used in medical magnetic resonance imaging devices)1, the team found that these nanocrystals of hydroxyapatite are studded with another molecule, called citrate.2 The citrate seems to latch on to the outside of the crystal, and that stops the crystal from growing.
So the process that makes bone in living creatures utilizes nanoengineering. It is designed to add citrate when necessary to keep the crystals nano-sized, and that makes the bone strong. It seems that this is an integral part of the whole bone-making process, as this study indicates that the citrate covers one sixth of each hydroxyapatite crystal's surface.
Now that's fascinating enough, but there is another fascinating aspect to this story. As a commentary on this study says:3
Scientists have long known that citrate is abundant in bone, but they thought it was involved in calcium leaching and demineralization.
Indeed, this is what I was taught at university. Since citrate is what results when citric acid acts as an acid, and since hydroxyapatite is a base, it was thought that the citrate in bone was the result of citric acid reacting with hydroxyapatite. This would destroy the hydroxyapatite, but it would allow the body to pull calcium out of the bones and into the blood. This is something the body does from time to time, especially when it is low on calcium. Well, that idea is most likely quite wrong. The citrate is not there because hydroxyapatite was destroyed. Instead, it is there to nanoengineer the hydroxyapatite so as to keep the bones as strong as possible.
God is not only an amazing engineer, He is an amazing nanoegineer!
NOTE and REFERENCES
1. It turns out that when MRIs were first developed, the process was called by its proper name, "Nuclear Magnetic Resonance Imaging." This is the proper name, because the scanner looks at how the nuclei of atoms absorb and emit energy in the presence of a magnetic field. This depends on the nuclei around them, so it allows you to figure out some of the atomic details of what is being analyzed. However, people were so afraid of the word "nuclear," that they would not agree to have the scan done. As a result, the name was changed to "Magnetic Resonance Imaging" to make the scans less frightening.
Return to Text
2. Y-Y. Hu, A. Rawal, and K. Schmidt-Rohr, "Strongly bound citrate stabilizes the apatite nanocrystals in bone," Proceedings of the National Academy of Sciences of the USA, 107:22425-22429, 2010.
Return to Text
3. CHA, "Citrate Stabilizes Bone Apatite," Chemical and Engineering News, December 6, 2010, p. 36.
Return to Text