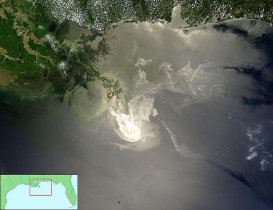 In September, I discussed some of the scientific findings regarding the Deepwater Horizon oil spill that spewed hundreds of millions of gallons of water into the Gulf of Mexico. Those findings were quite encouraging. They showed that the ocean's natural "cleanup crew" was busy trying to mitigate the damage that we did to the gulf. They demonstrated that the populations of bacteria rose and fell depending on what kinds of hydrocarbons were present in the ocean. This demonstrated there was a good chance that bacteria could take care of most of the oil that was released into the Gulf.
There was one nagging problem, however. While many of the hydrocarbons that were released into the Gulf were being destroyed by bacteria, the lightest hydrocarbon (methane) seemed to be persisting stubbornly. A study of the lighter hydrocarbons in the Gulf, which was published in October of last year, showed that very little methane from the spill had been destroyed.1 In fact, one of the authors of the study said that the results indicated:
methane would persist for many, many years, if not almost a decade.2
Well, it turns out that this particular scientist (and those who agreed with him) just didn't have enough faith in the ocean's natural cleanup crew!