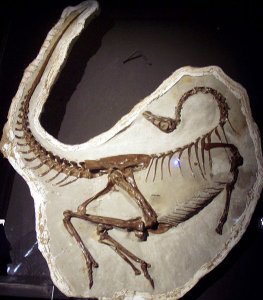 Relatively complete dinosaur fossils are fairly rare. Additionally, fossils in which the bones are essentially preserved in their proper arrangement (called fully articulated fossils) are even more rare. However, among these rare, fully-articulated fossils, there is a common feature: the head is often thrown back, curving the neck, as shown in the fossil on the left. This is so common it has its own scientific term. It is called the opisthotonic posture. Since it is so common among dinosaur fossils, it has been recognized for a long time. Indeed, the first reference to it in the scientific literature can be traced to a German paper that was written by A. Wagner back in 1859.1 Since then, paleontologists have been trying to figure out what causes this unusual "death pose."
This investigation has produced a lot of speculation, but in the end, a study that was published in 2007 seemed to have settled the issue. It was done by a veterinarian, Dr. Cynthia Marshall Faux, and a vertebrate paleontologist, Dr. Kevin Padian. That seems like a perfect team when it comes to figuring out what's going on here. The veterinarian would understand the various physiological and anatomical features of living vertebrates and how they would change during the death process, and the paleontologist would understand the details regarding the fossilization process. Their conclusion was:2
It is not postmortem contraction but perimortem muscle spasms resulting from various afflictions of the central nervous system that cause these extreme postures.
So according to Faux and Padian, the opisthotonic posture occurs at or near the time of death (perimortem) due to problems related to the central nervous system. It has nothing to do with what happens after death (postmortem). Their study got a lot of press and was considered by some to be the final say on the matter.
That is, until last year.
Continue reading "Arched Necks In Dinosaur Fossils: Is Water to Blame?"