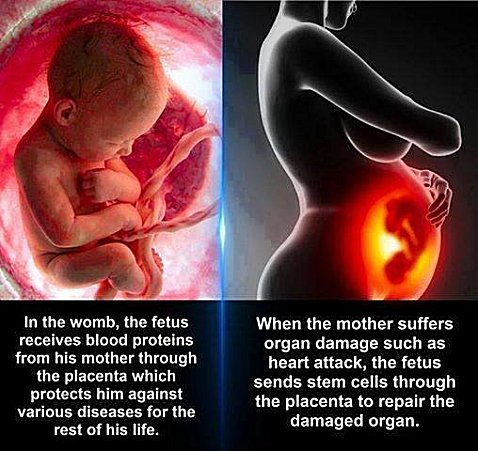 I avoided Facebook for a long time, but a few years ago, I finally gave in. Not long after I started connecting with long lost friends and finding out what everyone was eating, I learned the joys of Facebook memes. Every day now, I see lots of pictures with snarky sayings on them coming across my news feed. Some of them are funny, and some try to make a point. Many times, the ones that try to make a point are just dead wrong. They include either outright falsehoods or an incredibly mischaracterized fact. Thus, whenever I see a "science meme" or a "political meme," I generally ignore it.
However, when the meme at the top of this article came across my newsfeed, I had to investigate it. If you have been reading this blog for a while, you might remember that almost two years ago, a talented writer named Amanda Read posted a story about how a baby's cells reside in his or her mother long after the baby is born, and they may aid the mother in healing certain kinds of tissues. I was incredibly skeptical of the story, but when I did some investigation, I found out that it was true. Later on, I learned about a study that showed how a baby leaves DNA behind in his mother's brain, and those "fetal remnants" might even fight against neurological disorders!
Since we are still barely scratching the surface in our understanding of the the amazing design behind pregnancy, I decided to pay attention to this Facebook meme. Of course, I knew that the statement on the left is true. All sorts of things pass through the placenta from the mother to the child, and that includes blood proteins which fight disease and shape the development of the baby's B-cells.1 Those B-cells will affect the child's ability to fight disease for the rest of his or her life.
I was, however, very skeptical of the statement on the right. Surprisingly, there is strong scientific evidence to back it up!