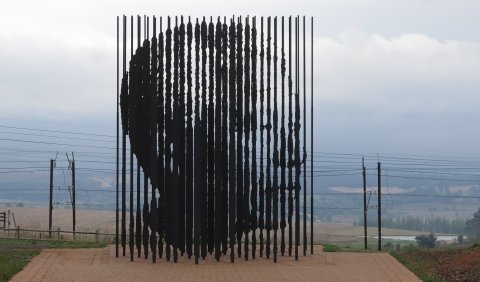 As my two previous posts indicate, my wife and I are currently in South Africa. While the main purpose of our visit is to support home educators in this lovely country, we have been seeing some of the sights as well. For example, after I spoke at the KwaZulu-Natal Homeschool Curriculum Expo, we went to a game reserve to see some amazing wildlife! My Facebook page has a photo album that gives you a taste of what we saw.
Before we went to the expo, however, we traveled through the KwaZulu-Natal province and visited a historic site. It marks the spot where, on August 5, 1962, Nelson Mandela was captured by the South African police. He had been on the run from the police for 17 months, and at that time was posing as a chauffeur. He and the other man in the car (Cecil Williams) had just visited the head of the African National Congress to report on what Mandela had been doing outside the country to fight Apartheid. Their car was stopped at a road block, and the police saw through Mandela's disguise. He was arrested and eventually imprisoned for 27 years.
When he was released in 1990 (in large part due to international pressure), he started negotiations with then-president F. W. de Klerk to dismantle the Apartheid regime. Four years later, South Africa had its first multiracial election, and Mandela was chosen to be the country's first black president. Many in South Africa refer to him as "The Father of the Nation."
This history is very important, of course, but that's not the reason I am writing this post. Instead, I want to highlight the work of art (pictured above) that is used to mark this historic spot. It was unveiled in 2012, on the fiftieth anniversary of Mandela's capture.
Continue reading "An Interesting Sculpture of Nelson Mandela"