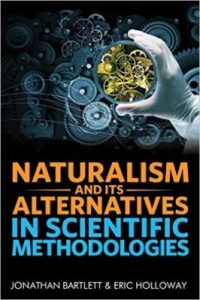 What is the nature of science? Many think this is a fairly easy question to answer. Science is about making observations and then forming the most reasonable conclusions based on those observations, right? Well…that depends. There are many (myself included) who think that the scientific community as a whole artificially censors certain conclusions, because those conclusions don't fit a criterion that has been imposed on science: that science can refer only to material causes. Because of this view, which is often called naturalism, many claim that science cannot deal with issues like purpose, will, the soul, or God. Of course, this flies in the face of science history, which shows us that the science we have today was formed by those who continually incorporated God into their scientific research.
The purpose of Naturalism and Its Alternatives in Scientific Methodologies is to explore how naturalism overtook science and how that error can be corrected. The book is actually a compilation of the proceedings of the 2016 Conference on Alternatives to Methodological Naturalism. As such, it is really a collection of essays written by multiple authors. Some of the authors deal with the problem of naturalism's infection of science, others discuss how scientists can build alternatives to naturalism, and others make suggestions for how non-naturalistic causes can be used to guide research in certain fields.
But wait a minute. Science is about studying the natural world – doing repeatable experiments and coming up with conclusions that apply uniformly throughout nature. Doesn't anything supernatural work against that? After all, if miracles can occur, doesn't that mean I can't trust my experiments? Couldn't any result I get in the lab be the work of a capricious demon? Of course not, and the author of the second contribution to this book (Tom Gilson), gives us the obvious reason why.
Continue reading "Naturalism and Its Alternatives in Scientific Methodologies"