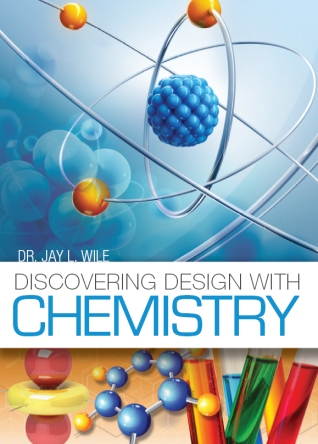 If you are a regular reader of this blog, you may have noticed that the frequency with which I add new articles has decreased significantly. There's a reason for that. I am in the midst of writing a new high school chemistry course, and the deadline is rather unforgiving. As a result, I haven't had much free time to dedicate to this blog. Why am I writing a new high school chemistry course under an unforgiving deadline? Well, the publisher of my old chemistry course just released a new edition, and in my opinion, it is no longer a good source from which to learn chemistry. I wrote a detailed review of the many problems with the course, in case you want to know more. Because the publisher will no longer sell the old edition, I think there is now a serious need for an academically-sound, college-preparatory high school chemistry course designed for the home school, and I think it needs to be available for the coming academic year.
I wanted to use this blog post to give you an update on the course. I am just over three-fourths of the way done with my rough draft, and my reviewers are keeping pace with me. As a result, I currently see no problem with meeting the deadline. This means that, barring some unforseen circumstances, the course will be available on August 17th of this year. Thus, if you are looking for a homeschool-friendly, college-preparatory chemistry course for this coming year, you can consider using my new course.
To get an idea of the course content, look at the table of contents as it exists so far. You will see that after a necessary discussion of measurement, units, and significant figures, I introduce students to the classification of matter. Then, I discuss atoms and molecules, so students learn how matter is constructed. This leads to a discussion of molecular geometry as well as the distinction between chemical and physical change. After a brief discussion of physical change, most of the rest of the course concentrates on chemical change. The students learn about several different types of chemical reactions (formation, decomposition, single and double displacement, combustion, acid/base, and reduction/oxidation), and along the way, they learn one of the most important concepts in all of high school chemistry: stoichiometry. In case you don't know that term, it is the process by which you can calculate the quantities of substances in a chemical reaction. In addition to all that, the students learn about solutions, gases, heat and its effect on matter, the energy associated with chemical reactions, the speed of chemical reactions, and chemical equilibrium.
While the topics covered in this course can be found in pretty much any college-preparatory high school chemistry course, there are three things that separate this course from the other ones that are currently available.
First, the course is designed for the home school. I don't assume there is a teacher present, so I really do explain everything the student needs to understand in order to grasp the material. I write in my typical "talking to you" style, which makes the explanations easier to understand. Anything the students are asked to do has a detailed, worked-out solution. That way, students can learn from their mistakes. In addition, there is a free question/answer service that comes with the course. If students get stuck on a problem or concept, they can simply log onto a website and ask me their question. They can also browse through a list of previously-answered questions. Finally, there will be a content-rich course website that has links to videos that further explain the concepts of the course, gives lots of extra problems if the students need more practice, and links to websites that contain even more information about what the student is studying.
Second, the experiments are designed to be done at home, but they are solid, college-preparatory experiments that illustrate the concepts of the course. One of the reasons the experiments are so good in this new course is the availability of an inexpensive mass scale that is accurate to 0.1 grams. These weren't available (at least not as inexpensively as they are now) back when I wrote my previous chemistry courses, so it was difficult to do any experiment that required a precise determination of mass. Now that such scales are available, a whole new realm of chemistry experiments can be done at home.
For example, there are certain chemicals called "hydrates," which incorporate water molecules into their structure. In this course, students will be able to measure how many water molecules are incorporated into a hydrate. Students will be able to measure the amount of sodium bicarbonate (baking soda) that exists in an Alka-Seltzer tablet. They will be able to do a percent yield experiment that allows them to see how stoichiometry actually works in the real world. They will be able to see how the number of ions in an ionic compound affects the freezing point of a solution, and they will be able to calculate the concentration of the hydrogen peroxide solution they buy at the supermarket or drug store.
In addition, there are several other experiments that do not involve a mass scale but communicate chemical concepts in a powerful way. Students will use a microwave oven to measure the wavelength of microwaves, and they will burn chemicals to see the different colors emitted. They will use a feather to explore the wave nature of light, and they will burn iron to see that even metals can undergo combustion. They will burn methanol solution to see the importance that concentration plays in chemical reactions, and they will use ice to boil water so they can understand the true definition of a liquid's boiling point. To understand batteries, they will build their own Galvanic cell (the basis of a battery), and they will electroplate copper onto the silvery surface of a battery.
Of course, doing experiments like these requires a kit, and the expected price for that kit is $70. Aside from very inexpensive items that are easily found at the supermarket or drug store (like distilled water and hydrogen peroxide), the kit will contain everything the students need to do the experiments. Since the course itself, which includes the textbook, the tests, and the answer key, is only $65, this means you can have a solid, college-preparatory high school chemistry course for only $135. If that price is simply out of your reach, you can do many of the experiments without a kit at all. The course website will have a document that tells you which experiments can be done without the kit and what household items can be used to complete those experiments.
Third, this course naturally weaves in a Christian worldview. When discussing things like the structure of the atom, I point out the exquisite design in nature, which points to the existence of a Designer. When discussing some of the great chemists of the past (and present) who produced the science that the students are studying, I point out how their Christian worldview shaped their interpretation of science. For example, James Joule correctly argued against the prevailing view of heat that was held by the scientists of his day. One of the reasons he did that was because his experiments indicated that if that view of heat were true, it would have to be possible to destroy energy. However, he said:
…we might reason a priori that the absolute destruction of living force can not possibly take place because it is manifestly absurd to suppose that the powers with which God has endowed matter can be destroyed, any more than they can be created, by man's agency. [The Duke of Argyll, "A Great Confession," Popular Science Monthly, 33:71, 1888]
In my course, this kind of content flows naturally from the chemistry that is being discussed, so the students see that there is nothing strained about the relationship between science and Christianity.
I hope this update has been helpful. I plan to write at least one more update when I have met my deadline. That way, you can have even more assurance that the course will be available by August 17th. If you want more frequent updates, you can sign up for them at my publisher's website. You can also look at the first two chapters of the course (here and here).