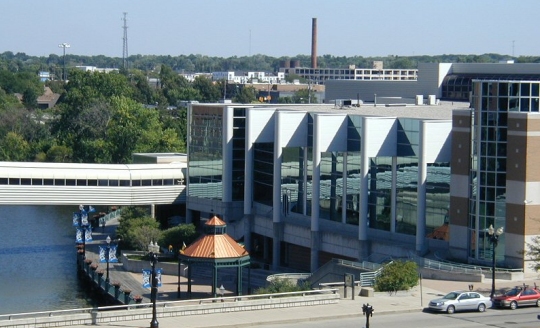 This past weekend, I spoke at the Michigan Home Education Conference. It might have been the very first time I have spoken at this convention, even though it has been going on for quite a while. It was held in the beautiful Lansing Center (pictured above), and the weather was quite nice, so I got an opportunity to enjoy the conference center's riverfront setting. When I wasn't outside enjoying the view or talking with people at my publisher's booth, I was giving talks. I gave a total of six talks at the convention: Homeschooling: The Solution to our Education Problem, 'Teaching' High School at Home, Teaching Science at Home, Be Open-Minded, but Don't Let Your Brain Fall Out, How to be a REAL Environmentalist, and Why Homeschool Through High School.
The conference was well attended and ran quite smoothly. One interesting thing this conference does is offer a free session on Thursday night. It is designed for those who are thinking about homeschooling their children, but in the end, anyone is welcome. The first speaker of that session was Carol Barnier, and she was a delight to hear. She spoke about the basics of homeschooling, and she had one of the best phrases I have heard regarding the homeschool model:
Homeschooling is incredibly efficient and forgiving.
It is efficient because the education is tailor-made for the child. As a result, the child can learn a lot more in a set amount of time than one who must sit in a classroom that attempts to meet the needs of all the students there. It is forgiving because it is so efficient. It might take you several years to find the ideal educational approach for each of your children. However, once you find what works, each child learns so efficiently that it doesn't matter if you wasted a few years. In the end, the child will "catch up" and eventually surpass what he or she would have accomplished in a classroom setting.
I wholeheartedly agree with Carol. Homeschooling is incredibly efficient and forgiving, which is why homeschooled students are so outstanding, especially those who were homeschooled K-12.
Speaking of the fact that homeschooled students excel, that was the focus of my talk (Homeschooling: The Solution to our Education Problem), which followed Carol's. I usually discuss a wide range of issues in that talk, but the conference organizers wanted me to shorten it to fit within their program format, so I just talked about studies that compared homeschooled students to publicly- and privately-schooled students, demonstrating that, on average, the homeschooled students are better educated than their peers.
As always, I opened that talk up for questions at the end, and I got several good ones. I want to concentrate on one that came from a mother who said that she was not homeschooling yet, but she was thinking about it. She said that she had already heard some of my statistics related to the academic achievement of homeschooled students, and she wondered how much of it was simply the result of their parents. After all, homeschooled students are predominantly from two-parent households, and lots of studies show that this already gives them a head start academically. In addition, education is very important to homeschooling parents, so they would stress scholastic achievement even if they weren't homeschooling. That has to play some role in a homeschooled student's achievement.
To some extent, I agreed with the mother. When comparing students, you are most certainly comparing parents, and it is often difficult to separate the effects of the parents from the effects of the educational model. Many studies try to select their sample so that the average income, education level, etc., of the parents are the same, but that often can't be done. Even when it can be done, that still doesn't guarantee you are comparing children of "equivalent" parents. It only guarantees that the parents are "equivalent" in some ways.
However, I do think there is one observable that, at least to a large extent, reduces the effect of the parents, and that's post-high-school GPA. If a student goes on to higher education, the establishment at which he or she studies has its own admissions criteria, which gives a totally new "selection tool" that can be used to study students. In addition, most students who seek higher education are encouraged to do so by their parents, so that establishes some minimum level of commitment to education. Finally, most parents have to sacrifice to send their children to higher education, so at least to some extent, all the students in the study have parents who are willing to sacrifice for the education of their children.
When we look at the grade point averages of homeschool graduates in a variety of different higher-education establishments, we see that they do better than their peers:1-5

Notice that the homeschool graduates have better GPAs regardless of the "level" of the higher education they are pursuing. Boston University, for example, accepts students whose average ACT composite score is 29. That indicates a rigorous admissions requirement, which automatically selects a specific kind of student. Baylor University, on the other hand, accepts students whose average ACT composite score is two points lower. York Technical College, on the other hand, doesn't require a high school transcript for admissions. Regardless of the rigor of the admissions process, then, homeschool graduates excel.
I would think that if the characteristics of homeschooling parents explained all the educational gains that homeschooled students have relative to their peers, homeschool graduates wouldn't excel in every level of post-high-school education. The selection process itself should produce students whose parents have similar educational goals and backgrounds, and the students' success at higher education is less dependent on their parents. Nevertheless, homeschool graduates still excel compared to their peers. This indicates to me that at least some of that success is a result of the model, not just the parents who are executing the model.
REFERENCES
1. Daniel Golden, "Home-Schooled Kids Defy Stereotypes, Ace SAT Test," The Wall Street Journal, February 11, 2000, p 1. (Boston University GPAs)
Return to Text
2. "Profile of First-Time Freshmen from Home Schools, Fall 2005 to Fall 2009," Baylor University, 2010 (available online)
Return to Text
3. Cogan, Michael F., "Exploring Academic Outcomes of Homeschooled Students," Journal of College Admission, Summer 2010.
Return to Text
4. Marc Snyder, "An Evaluative Study of the Academic Achievement of Homeschooled Students Versus Traditionally Schooled Students Attending a Catholic University," Catholic Education, March 2013, pp.288-308 (Available online)
Return to Text
5. Jack N. Bagwell, Jr, "The Academic Success of Homeschooled Students in a South Carolina Technical College," Ph.D. Dissertation for the University of Nebraska, Lincoln, July 1, 2010 (Available Online)
Return to Text