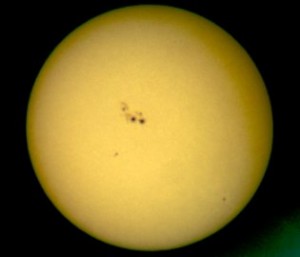 It seems simple enough. The sun warms our planet. Thus, if one is wondering what is happening to the temperature of our planet, one should look for changes that are occurring in the sun. Sure, there are a lot of other things one must investigate as well, but the sun should be a major priority, right?
Well, not according to the Intergovernmental Panel On Climate Change (IPCC). In their 2007 report,1 which claims that "Warming of the climate system is unequivocal" and that there is a "very high confidence that the net effect of human activities since 1750 has been one of warming," they state:
Solar irradiance contributions to global average radiative forcing are considerably smaller than the contribution of increases in greenhouse gases over the industrial period.
So the IPCC says that the huge ball of thermonuclear reactions upon which the earth depends isn't nearly as important when it comes to climate change as the relatively recent 35% increase in atmospheric carbon dioxide.
Fortunately, not everyone thinks the IPCC is serious about science. As a result, some climate researchers are actually trying to figure out how important changes in the sun's activity are when it comes to the overall temperature of the earth. Not surprisingly, current research is showing that the conclusions of the IPCC are wrong.