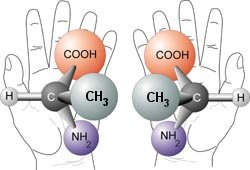 Naturalistic evolutionists face many problems, most of which are the result of the fact that science doesn't support what they want to believe. As a result, they must make up desperate explanations to work around what science clearly says. Nowhere is this more true than in origin-of-life research. Serious scientists understand that life comes only from other life. That's what all the data clearly demonstrate. However, a naturalistic evolutionist simply cannot believe that. As a result, he or she must cook up wild scenarios by which nonliving chemicals can react with one another to magically create life.
Of course, there are countless problems with such wild scenarios. Demski and Wells recount many of them in their book, The Design of Life. Simon Conway Morris has an even more devastating review of the various origin-of-life scenarios in his book, Life's Solution. One of the many intractable issues in any naturalistic origin-of-life scenario is chirality.
There are many molecules that have the same chemical formula but are quite different chemically. Glucose, for example is the sugar found in green, leafy vegetables. Fructose, on the other hand, is the sugar found in fruit. They are chemically quite different (which is why they taste different), but they have the exact same chemical formula: C6H12O6. They are chemically different because despite the fact that they contain exactly the same complement of atoms, the atoms arrange themselves into differently structured molecules. We call such molecules isomers.
There are many kinds of isomers, and one specific kind is a stereoisomer. Consider your hands. They are mirror images of one another. If you hold them together at the palms, your fingers and thumbs all match. However, if you try to lay one of your palms on the back of your other hand, your fingers and thumbs will not match. Your thumbs, for example, will be on opposite sides. In other words, while your hands are reflections of each other, they cannot be superimposed on one another. There are molecules like that as well. They are mirror images of each other, but there is no way you can turn one of the molecules around and make it look exactly like the other molecule. Such molecules are called stereoisomers. Because they are like your hands, we actually refer to one stereoisomer as the "left-handed" isomer and the other as the "right-handed" isomer.
An example of such a molecule is shown in the sketch above. The amino acid alanine can be formed two ways. Like your hands, those two molecules are mirror images of each other, but there is no way you can turn one of those images into an exact replica of the other. If a molecule has a stereoisomer, it is called a chiral molecule, and chiral amino acids cause all sorts of headaches for those who want to believe that life sprung from nonliving chemicals.
Continue reading "Here's How Desperate Naturalists Are Becoming"