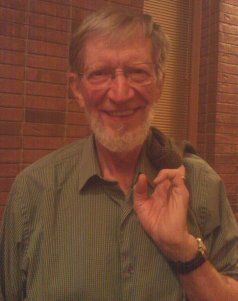 Dr. Alvin C. Plantinga is arguably the most important Christian philosopher alive today. Best known for his works in epistemology, metaphysics, and Christian apologetics, he is widely credited for the revitalization of Christian philosophy that took place in the mid-to-late 1900s. Indeed, a 1980 Time Magazine article reported on the remarkable resurgence that had occurred in religious philosophy and gave Plantinga the lion's share of the credit for it, calling him "America's leading orthodox Protestant philosopher of God." Thanks to a member of my church, I found out that he would be lecturing at Taylor University, which is only about 35 minutes from my home. I was incredibly excited to hear such an amazing servant of God, and he certainly didn't disappoint.
His first talk was entitled, "Science and Religion: Where the Conflict Really Lies." He started his lecture with several witticisms. For example, many people are surprised to learn that although he is a Protestant, he is currently on the faculty at the University of Notre Dame, a Roman Catholic institution. He says many people wonder why he left his faculty position at Calvin College to go to Notre Dame. "It's actually quite simple," he said, "I wanted to become Pope, and there has never been a pope from any university with the name Calvin." He said he thought it would be fun to be the first Protestant Pope, and the University of Notre Dame would help him get closer to that goal. But he said he quickly found out that "becoming Pope is harder than you might think," so his dream is still not realized.
I actually think I understand why Dr. Plantinga went from a Calvinist college to a Roman Catholic university. Like all deep thinkers, he understands that in order to be truly educated, we must look at issues from a variety of perspectives. I think part of the reason he ended up as a Protestant philosopher at a Roman Catholic university was so that he could see various aspects of Christian philosophy from a different perspective. I find that quite laudable.
Continue reading "Dr. Alvin Plantinga on Science and Christianity"