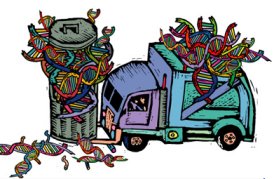 The evolutionary mindset produces all sorts of pathologies in modern science, but it has probably wreaked the most havoc in the field of genetics. Because DNA is so incredibly well designed, assuming that it is the result of random processes guided by natural selection has hampered our understanding of it significantly. Nowhere is this more apparent than in the concept of junk DNA. The term was coined by Susumu Ohno back in 1972.1 He applied it to all parts of an organism's DNA that don't code for proteins. Back then, it was thought that DNA's only job was to tell a cell which proteins to make and how to make them. If a portion of DNA didn't do that, to Ohno and most other geneticists at the time, it was simply junk – a leftover vestige of the evolutionary process. To give you an idea of how unreasonable this evolution-inspired idea is, at one time, it was thought that more than 98% of the human genome was composed of junk DNA!
Of course, creationists have always contended that there cannot be much junk DNA in any organism's genome. Because DNA is so incredibly well designed, any significant amount of junk DNA would cause all sorts of problems. Imagine throwing a bunch of junk into a race car engine. Do you think the engine would work properly if it was filled with junk? Of course not. Since DNA is designed more elegantly than the fastest race car engine today, it is hard to believe it could function properly if it were filled with junk. The creationist view, then, has always been that while there might be a bit of junk DNA that has come from mutations which have degraded the genome over time, the vast majority of all organisms' DNA serves important purposes, whether or not we understand them.
Not surprisingly, the more we learn about DNA, the more the creationist view is being confirmed. Time and time, again regions of DNA that have been positively identified as "junk" by evolutionists have been demonstrated to have a necessary function. A recent article in the journal Nature is yet another example of this confirmation process.
To understand the article, you must first understand the difference between a gene and an enhancer. When a sequence in DNA tells a cell how to make a protein, it is called a gene. In the typical jargon of genetics, it is said that a gene codes for a protein. It is actually a bit more complicated than that. Because of the elegant design of the genome (and thanks to other DNA sequences that were at one time definitively called "junk DNA"), a gene can actually code more more than one protein. The bottom line, however, is that a gene tells the cell how to make one or more proteins.
An enhancer is also a sequence on DNA, but it does not code for a protein. Instead, it helps to control how a gene is expressed. You can think of an enhancer as a regulator. A gene tells the cell how to make one or more proteins, and an enhancer for that gene regulates how actively the cell uses it. Now remember, according to Susumu Ohno, these enhancers were "junk DNA," since they didn't produce any proteins. However, now we know that they are anything but junk.
The reason I am blogging about enhancers is because of the newest twist to their story. Initially, it was thought that an enhancer needed to be near the gene that it regulates. Thus, a stretch of DNA would have a gene, and if that gene had an enhancer, it would be found as another stretch of DNA relatively close to the gene. In 2008, however, Hong, Hendrix, and Levine showed that there were duplicates of these enhancers, and they were often quite far from the gene they regulated.2 These enhancers were nicknamed "shadow enhancers."
Now since these shadow enhancers were far from the gene they regulated, and since they were simply duplicates of the nearby enhancer, it wasn't clear what their function was. Hong, Hendrix, and Levine suggested some possibilities in their paper, but duplicated parts of the genome are often considered redundant junk. In addition, these "shadow enhancers" were from from the gene they were supposed to regulate, so it was unclear what they could actually do.
Well, now we know what they do. They help to make sure the organism's DNA is ready to meet the organism's needs, even when the conditions are not optimal.3 Frankel and colleagues studied a fruit-fly gene called shavenbaby. This gene codes for proteins that are involved in producing hair-like protrusions, called trichomes, on the fly's body. If the gene is mutated, the trichomes aren't produced well, and the fly looks "shaven" compared to a normal fly. This gene was found to have at least two shadow enhancers.
The researchers deleted the two shadow enhancers in the genomes of developing fruit flies and then watched their development. When the temperature was ideal for fly development (25 degrees Celsius), the flies without shadow enhancers had slightly defective, but useful, trichomes. However, when flies without shadow enhancers developed at non-ideal temperatures, the trichomes became very defective.
As a further means of understanding the role of shadow enhancers, they used flies that had a mutation in another gene (not shavenbaby) that is involved in making trichomes. They deleted the shadow enhancers in some of the flies and kept them in others. As the flies developed, those that still had shadow enhancers had significantly less-defective trichomes than those that did not have shadow enhancers.
So here we have sections of DNA that seem to be redundant, but instead, they do a very important job. They help the organism develop properly when the conditions are not optimal, and they even help the organism develop properly when the organism's own DNA is not optimal. Not bad for something that was once put in the junk pile!
REFERENCES
1. Ohno, Susumu, "So much 'junk' DNA in our genome," a chapter in Evolution of Genetic Systems, H. H. Smith. ed., Gordon and Breach, New York. pp. 366–370, 1972
Return to Text
2. Joung-Woo Hong, David A. Hendrix, Michael S. Levine, "Shadow Enhancers as a Source of Evolutionary Novelty," Science, 321:1314, 2008
Return to Text
3. Nicolás Frankel, et al., "Phenotypic robustness conferred by apparently redundant transcriptional enhancers," Nature, 466:490-493, 2010
Return to Text