It is sad that parents are misinformed by those who are against vaccination. It is sadder still that children are not as healthy as a result. The saddest thing of all, however, is how innocent children suffer because of anti-vaccination misinformation. This year, we are witnessing the fruits of this misinformation: the suffering and death of innocent children.
According to the California Department of Public Health, there have been 4,461 cases of whooping cough (pertussis) reported throughout the state so far this year. The majority of those are confirmed cases, but 19% are considered probable cases, while 18% are merely suspected cases. This is the largest number of reported cases since 1955. At least 217 of these cases resulted in hospitalization, and 9 resulted in death!
What is causing this sudden surge of whooping cough? Well, there are actually two effects. First, like most contagious diseases, whooping cough goes through cycles of years when it is not very prevalent and years when it is very prevalent. This year is in the "very prevalent" part of the cycle. Second, over the past few years, there has been a significant reduction in the vaccination rate, due to misinformation promulgated by those who are against vaccinations.
The following graph shows the incidence of whooping cough in California and the whooping cough vaccination rate during the same period. Notice how there are peaks and valleys in the number of cases due to the cyclic nature of the disease, but notice there is also a pattern of lower vaccination rates coinciding with higher numbers of whooping cough cases during the peak years.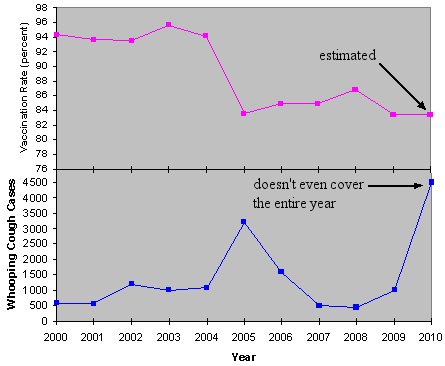 Now it is important to note that this graph by itself doesn't tell us that the increase in whooping cough cases is the result of a reduction in vaccination rate. After all, it could just be a coincidence that whooping cough cases increased while whooping cough vaccination rates decreased. However, other data clinch the case.
What are the other data? First, the United Kingdom experienced this exact same situation back in the 1970s and 1980s. In 1974, vaccination rates for whooping cough dropped, and over the next ten years, the number of whooping cough cases skyrocketed. When the vaccination rate increased to its pre-1974 level, the number of whooping cough cases went back down in response.
Second, there have been many studies that directly measure how likely vaccinated and unvaccinated children are to get whooping cough. One study, for example, showed that unvaccinated children are 590% (nearly six times) more likely to get whooping cough than are vaccinated children.1 A more recent study specifically examined children whose parents refused the whooping cough vaccine, and they found that such children were 2,300% (23 times) more likely to get whooping cough than children whose parents did not refuse the vaccine.2
When all these data are put together, the conclusion is clear. Because people in California are refusing the whooping cough vaccine in large numbers, whooping cough is rearing its ugly head there. Children are needlessly becoming sick and dying, and we have the misinformation spread by anti-vaccine people to thank for it.
REFERENCES
1. Feikin DR, et al., "Individual and Community Risks of Measles and Pertussis Associated with Person Exemptions to Immunization," JAMA 284:3145-3150, 2000
Return to Text
2. Jason M. Glanz, et al., "Parental Refusal of Pertussis Vaccination Is Associated With an Increased Risk of Pertussis Infection in Children," Pediatrics 123:1446-1451, 2009 (Available online)
Return to Text