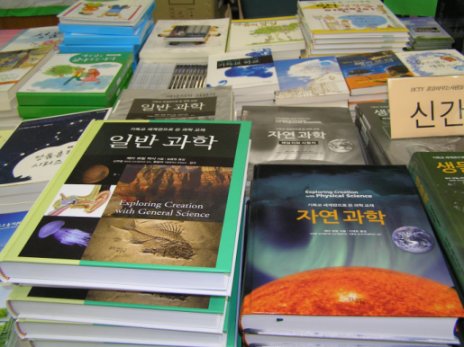 I am now at the fourth annual South Korean Homeschooling Convention. It is at an excellent conference facility that is roughly an hour and a half outside of Seoul. The conference is organized by a company that has taken a lot of interest in homeschooling, DCTY. Although its main focus is children's clothing, the company has been at the forefront of translating books from English to Korean to help the homeschooling community here. The picture above shows you the Korean editions of two of my books, Exploring Creation with General Science and Exploring Creation with Physical Science. I must admit that it is a bit surreal looking at a book that I wrote but cannot read!
My first talk at the conference was at 10:00 AM, and I was actually nervous about it. I haven't gotten nervous about a talk for a long time, so it was quite an interesting feeling! Why was I nervous? Because I had to speak through a translator. Most South Koreans know at least some English. They certainly know English better than I know Korean! Some of them even use the English editions of my books. Nevertheless, for them to get the most out of a talk, it should be in their own language. So I worked with an excellent translator, whose name is June. She was so good that it took no time at all for us to develop a rhythm to our interaction. Once we developed that rhythm, it almost seemed natural to speak a thought, pause, and wait for June to translate it.
The South Korean schools are a mess, but it is a different mess from the one in which the U.S. schools find themselves. While U.S. schools seem content to allow students to spend 13 years wandering their halls without picking up the ability to read or write, South Korean schools are hotbeds of stress and pressure. In the end, the goal is to rise to the top 10% of your class so that you can attend the university of your choice. If you don't achieve that goal, you are a failure. As a result, the average South Korean high school student spends up to 17 hours a day in school or in after-school tutoring. As one South Korean student put it:
We have an old rule of four versus five. You can enter the college you want if you sleep only four hours a day, but you won't if you sleep five or more. You get used to it.
It is not surprising, then, that suicide is the leading cause of death among young people in South Korea. Obviously, a lot of parents do not want their children exposed to that kind of pressure.
Many South Korean families escape the public school system by becoming kirogi, which means "wild geese." The mother and children live in a foreign country, and the children attend school there. The father stays in South Korea to make money to support the mother and children. The latest figure I can find (from 2002) indicates that 10,000 South Korean students live as kirogi. Homeschooling, obviously, is a more family-friendly way to escape the South Korean schools, so there is a growing homeschooling movement here.
While the specific problems with the South Korean schools are different from the specific problems with the U.S. schools, the questions that homeschoolers face are pretty much the same. How in the world will I be able to teach my children on top of everything else I need to do? How do I deal with the family and "friends" who are vocally opposed to what I am doing? How will it affect my children's options in the real world? How do universities look at homeschooled students? All of these questions are important, but they are just about the details. The most important question is, "How do I do what's best for my children?" In these parents' mind, the answer to that is homeschooling, so they are here to learn about the details.
As is the case around the world, I am impressed with these homeschooling parents. It is clear that they are putting the needs of their children well in front of their own needs. They are sacrificing mightily to do what they think is best for their children, and that inspires me.