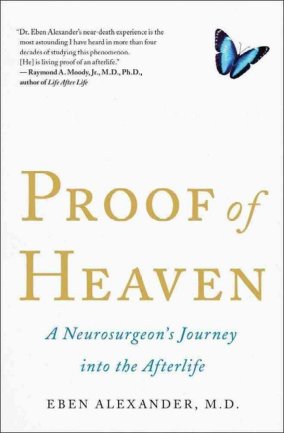 Dr. Eben Alexander is an academic neurosurgeon. He has taught at esteemed institutions such as the Duke University Medical Center, Harvard Medical School, and the University of Massachusetts Medical School. He has also done surgery at world-renowned hospitals like Boston Children's Hospital, the Dana–Farber Cancer Institute, and Massachusetts General Hospital. Obviously, his academic credentials are impeccable, and he seems to be a very well-respected surgeon by many health care professionals. Of course, the reason I am telling you about him is that he wrote a book called Proof of Heaven, in which he details a Near Death Experience (NDE) he had. This NDE radically changed him from a materialist who believed that the human mind is simply a product of the brain's physiology to a theist who believes that our consciousness is a supernatural gift from our Creator.
I decided to read the book because I have always been skeptical of NDEs. At the same time, however, I really haven't done much reading about them. My skepticism, then, is based largely on ignorance, and I am happy to admit that. It seemed to me if anyone could provide a good, scientific analysis of a NDE, it would be a neurosurgeon who actually experienced one. I read the book, hoping to be persuaded by the evidence. However, I have to say that I finished the book a bit more skeptical about NDEs than when I started.
In brief, Dr. Alexander came down with a very rare case of Escherichia coli meningitis, which he maintains completely shut down his cortex, the portion of the brain that is associated with "higher" functions such as thoughts and actions. He maintains that for all intents and purposes, he had no consciousness, since the part of the brain associated with consciousness was simply shut down by the bacteria that were attacking it. Despite this complete lack of higher brain function, he had a vivid experience of completely different places: An underworld he calls "The Realm of the Earthworm's Eye View" (p. 30), a glorious land of beauty he calls "The Gateway" (p. 38), and the realm of God Himself, which he calls "The Core" (p. 45).
The "The Realm of the Earthworm's Eye View" was a particularly unpleasant place, but that was just his starting point once his cortex shut down. He was soon pulled to the "The Gateway," which was amazing. There, he met a young lady he did not recognize, who wordlessly gave him a message:
The message had three parts, and if I had to translate them into earthly language, I'd say they ran something like this:

"You are loved and cherished, dearly, forever."

"You have nothing to fear."

"There is nothing you can do wrong." (p. 41)
Now I have a problem with this "message." Christians (and many other theists) would have no problem with the first part. God loves and cherishes us all. However, I would think most Christians would have a problem with the second part. The Bible says that for some, the Afterlife will produce fear, as some will go to eternal punishment (Matthew 25:46). Of course, the message might have been just for him. Perhaps he had nothing to fear. However, I can't imagine any theist agreeing with the third part of the message. Most theists (myself included) would say that God is the source of true morality, and as a result, there is a lot that we can do wrong. Now don't misunderstand me. I am not skeptical of the good doctor's NDE because I don't like the message. I am just saying that if the message is real, it seems rather different from the message most theists would expect to hear from God!
There are three things that make me skeptical about his account. First, he tells us early on that he has always loved flying. In fact, in the prologue, he tells us that as a kid, he would dream about flying. He also tells us about his skydiving adventures later in life. Well, once he was pulled from "The Realm of the Earthworm's Eye View" to "The Gateway," what was he doing?
I was flying, passing over trees and fields, streams and waterfalls, and here and there, people. (p. 39)
It seems to me that this is awfully close to his dreams of childhood and his adult experiences of skydiving. This indicates to me that there is something in the NDE that is coming from his own memories.
Second, he was flying with someone – the young lady who gives him the wordless message. He initially doesn't recognize her, and (as he points out in the book) this is rather different from the NDEs he researched after experiencing his own. In almost all the other NDEs, the people meet someone they knew who had died prior to their NDE. The author never met anyone he knew…at least that's what he thought.
Dr. Alexander was adopted. However, he was able to find his birth family as an adult, and they told him he had a sister named Betsy. Unfortunately, she had died 10 years before he had found them. This was a source of great pain for Dr. Alexander. Well, four months after Dr. Alexander's NDE, he was sent a picture of Betsy. He put it on his bureau. When he started researching other NDEs, he was reading about the case of a young girl who had an NDE and met her brother. However, she didn't have a brother. When she told her parents, they told her that she did have a brother, but he had died three months before she was born. After reading that story, Dr. Alexander said:
Then my eyes traveled over to the bureau, and the photo that Kathy had sent me. The photo of the sister I had never known…she wasn't easy to recognize at first. But that was only natural. I had seen her heavenly self – the one that lived above and beyond this earthly realm, with all its tragedies and cares. But now there was no mistaking her, no mistaking the loving smile, the confident and infinitely comforting look, the sparkling blue eyes. It was she [sic]. (pp. 168-169)
If this really had been his sister, why didn't she make that clear? That's what happens in other NDEs – the person experiencing the NDE is made aware of who is present in the Afterlife. This really seems to be a case of him shaping the events after they happened.
Now don't get me wrong. Dr. Alexander's son wisely counseled him to write the details of his NDE before he started researching other NDEs, and that's what he did. Thus, I have no doubt that the woman was a part of Dr. Alexander's experience. I also don't think he is consciously shaping the events of his NDE. However, he makes it clear in his book how much he wanted to be connected to his biological family. I think he shaped his flying companion into his dead sister unconsciously, after the NDE. This, of course, adds to my doubts.
Third, he makes a very big deal out of the fact that his NDE was different from every other one he researched. His cortex was really and truly shut down by his bacterial infection, which means he couldn't experience dreams or hallucinations that were so vivid and so real. He says:
But when I added up the sheer unlikelihood of all the details – and especially when I considered how precisely perfect a disease E. coli meningitis was for taking my cortex down, and my rapid recovery from almost certain destruction – I simply had to take seriously the possibility that it really and truly had happened for a reason (p. 144)
While I was reading, however, I was rather skeptical that a patient could know whether or not his cortex was really shut down. True, he reviewed his case file the same way he would review a file from any other patient, and the scans that he saw showed total shutdown. However, scans aren't done all that often, and they typically focus on specific things. I was skeptical that he could really evaluate his own condition. As a result, I did a bit of searching, and I came across this article, which is based on an interview with Dr. Laura Potter, one of Dr. Alexander's physicians during his NDE. She claims that she put him in a drug-induced coma, which leaves room for higher functions in the brain. Part of the article says:
I ask Potter whether the manic, agitated state that Alexander exhibited whenever they weaned him off his anesthetics during his first days of coma would meet her definition of conscious.

"Yes," she says. "Conscious but delirious."
Now once again, don't get me wrong. I am not saying (as the article I linked contends) that this debunks Dr. Alexander's story. As any physician who deals with such cases will tell you, opinion plays a big role in such situations. Dr. Potter's opinion is that Dr. Alexander could have been experiencing delusions. Dr. Alexander's opinion is that he couldn't have been. I am more inclined to believe the physician rather than the patient, but nevertheless, it is possible that Dr. Potter is wrong.
What's the takeaway from this book? In my opinion, it didn't give any serious evidence for an Afterlife, even though I would welcome such evidence, since I obviously believe in one. At the same time, I don't think it invalidates other NDEs. In order to do that, you would have to analyze each NDE on a case-by-case basis. There is, however, one thing this book does: It shows how God can use any situation to draw people to Him. Dr. Alexander's brush with death was a trial for him and his family, but it ended up turning him from a materialist into a theist. I am sure he is thankful for the trial, as it was used by God to call him Home!