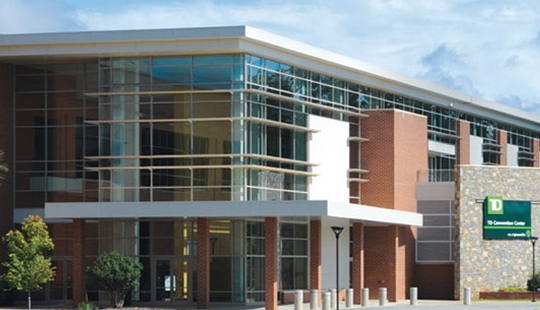 This past weekend, I was one of many speakers at the Southeast Homeschool Convention, which is part of the Great Homeschool Convention series. These conventions are always enjoyable, because they are well attended and run smoothly. I gave a total of five talks: Creation versus Evolution: Religion versus Science or Religion versus Religion?, The Creatures and Biological Structures Evolutionists Don't Talk About, What I Learned by Homeschooling, College and Faith: What's The Real Story?, and Reasonable Faith: The Scientific Case for Christianity.
Unfortunately, I was about 15 minutes late for one of my talks, because I got involved in a very interesting conversation about Cartesian dualism and lost track of time. Nevertheless, many of the patient conference attendees were still there waiting on me when I ran into the room, huffing and puffing. I apologized profusely, of course, and they readily accepted my apology. After that, the talk went fairly smoothly.
This conference was the first one I have done since deciding to write a new high school chemistry course so that homeschoolers have a better option available to them than the new edition of Exploring Creation with Chemistry. Many of the people who came to my booth had heard that news, and they wanted to learn more about my plans regarding the course. Because of the interest expressed at the convention, my publisher set up a website where people can sign up for updates about the course. If you sign up, you will get notified when things like the table of contents and sample chapters are available to review. I know of one online school that already plans to use the course for this coming academic year.
While I was at the convention, the publisher of Exploring Creation with Chemistry posted an article regarding the course. In that article, the owner of the company makes it clear that he will not sell the old edition of the course. I was hoping he would, but now that I know he won't, I am glad that I decided to write a new one.
One of the reasons I really enjoy the Great Homeschool Conventions is that a group of classical educators always attends, and there are some seriously good philosophers in that group. We usually go out to dinner at least once and have the kind of conversations that make my head hurt, but in a good way. Well, this convention was no exception. We all went out to dinner, and we discussed a wide range of interesting topics. At one point, Bill Nye's thoroughly awful book came up, and I discussed some of the more egregious errors found therein.
A philosopher at the table said he wasn't surprised that Nye's book was filled with errors. I said that I was, because he is supposed to be "The Science Guy." If that's the case, shouldn't he at least know the science behind his positions? The philosopher then said this:
In the U.S. today, you cannot champion a cause if you waste your time knowing what you are talking about and presenting it in a nuanced way.
Obviously, that's a bit of an overgeneralization, but at the same time, I think there is a lot of truth to it. Bill Nye champions evolution, but as his book demonstrates, he doesn't seem to understand it very well. He also champions anthropogenic global warming, but he doesn't seem to understand the physics behind that either. Then I got to thinking about other "champions" of causes, and many of them seemed to fit this statement as well. Dr. Neil DeGrasse Tyson champions the idea that religion is the enemy of science, but he doesn't understand the history involved, which demonstrates precisely the opposite.
Of course, there are people on my side who are the same way. Rather that looking deeply into Scripture, some young-earth creationists dogmatically state things that aren't certain, such as there was no animal death before the Fall. In the same way, rather than looking deeply into science to see the nuances there, they state things that are categorically false, such as The Second Law of Thermodynamics forbids evolution (see here and here). This is all very unfortunate. Regardless of your position, if you are going to champion a cause, you should at least understand the details of the cause and see that there are nuances involved.
Of course, nuances don't work well in a 30-second sound bite, on Twitter, or in a Facebook meme. It's a shame, but that seems to be the way the world is going.