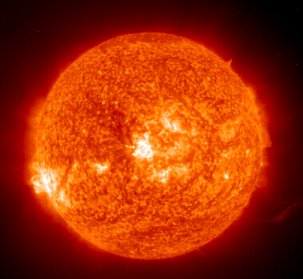 There are many, many data sets that clearly indicate the earth is young. I have blogged about several of them, some of which give direct measurements indicating that the earth is about 10,000 years old. Other data sets simply put upper limits on the age of the earth. One of those data sets is based on the behavior of the sun. As I have blogged before, the sun produces energy via thermonuclear fusion, and we know enough about thermonuclear fusion to understand that if the sun really has been around for billions of years, it is significantly hotter now than it was back then, probably by about 25%.
This, of course, produces a problem for an earth that is supposedly billions of years old. After all, the earth needs a certain amount of energy in order to support life. A billions-of-years-old sun would produce significantly less energy in the distant past than it does now, resulting in an earth that is simply too cold to support life.
Of course there are many scientists who are so desperate to believe in a billions-of-years-old earth that they are forced to produce some sort of narrative so that they can "explain around" this obvious problem. Once such scientist was Carl Sagan. In 1972, he and a colleague wrote a paper1 that suggested that the problem could be solved if the concentration of carbon dioxide in the atmosphere was significantly greater in the distant past.** He fervently hoped that a lot of extra carbon dioxide would produce a much stronger greenhouse effect, making the earth sufficiently warm enough for life, even when the sun was a lot dimmer.
Now this is only a partial solution to the problem, because not only did Sagan need to have faith that carbon dioxide concentrations in the atmosphere were significantly greater in the past, he also had to ardently believe that those concentrations would slowly fall in perfect coordination with the increase in the brightness of the sun so that the earth would never get too hot or too cold as the sun got brighter and brighter.
Well, now we know that despite Sagan's desperate hopes, his explanation doesn't work.