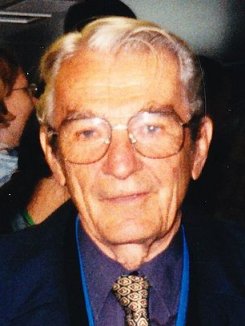 Dr. Ivar Giaever has a PhD in physics from Rensselaer Polytechnic Institute. He was a biophysics scholar at Cambridge, and is professor at both his alma mater and the University of Oslo. Although he has an impressive list of accomplishments, he is best remembered for sharing the Nobel Prize in physics with Dr. Leo Esaki and Dr. Brian Josephson in 1973. The trio won the award for investigating a quantum mechanical effect called "tunneling" and how it relates to solids. When a particle (like an electron) passes through a barrier that Newtonian physics says it should not be able to pass through, we say that it has "tunneled" through the barrier. Specifically, Dr. Giaever showed how this quantum-mechanical phenomenon applies to superconductors, which are materials that conduct electricity without resistance.
Of course, that was almost fourty years ago. Since then, he made a name in the field of biophysics, shedding light on how large biological molecules as well as cells interact with thin metal films. While he still has academic appointments at both Rensselaer Polytechnic Institute and the University of Oslo, he has dedicated most of his recent time to a company called Applied Biophysics, which specializes in scientific instrumentation used in biological research and drug discovery.
Why am I telling you about this world-renowned physicist? Because he has joined another famous physicist in protesting the American Physical Society's stand on global warming by resigning from the society.
Continue reading "Another Famous Physicist Leaves the APS Over Global Warming"