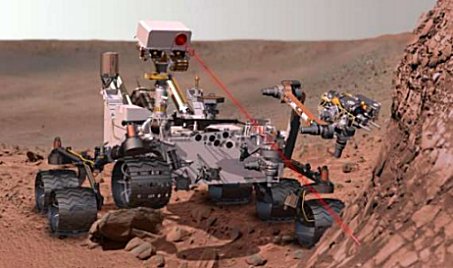 A friend of mine told me about a news story he heard on NPR. He said that NASA had some "really exciting" results from the Mars rover named Curiosity, but they were not ready to release the results to the public yet because they wanted to confirm the data. My friend wondered if perhaps NASA had finally found the remains of life on Mars. I found the story on NPR's website, and it sounds like my friend's expectation could be right.
According to the story, the principle investigator, Dr. John Grotzinger, says:
This data is gonna be one for the history books. It's looking really good.
Dr. Grotzinger is waiting to release the results, however, because NASA has been burned a couple of times before. Back in 1996, NASA scientists published a paper that claimed a meteorite from Mars (named ALH84001) held tell-tale signs of bacteria, indicating that there was once life on Mars. As more scientists studied the meteorite, however, several problems with that interpretation were found. As a result, even though some NASA scientists are still saying that the meteorite holds evidence of life on Mars, the data are inconclusive at best.
In addition, NASA scientists published a paper in 2010 claiming to have found a bacterium that could incorporate arsenic into its biochemistry. NASA said that this finding would change the way we think about bacteria and would help us better understand the possibilities for life on other worlds. However, in just a couple of years, two very detailed studies showed that the original NASA claim was incorrect. It's understandable, then, that NASA scientists are being careful when it comes to the release of any surprising data from the Curiosity rover.