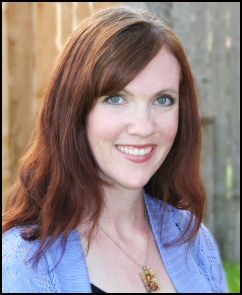 Those who read my blog regularly know that I like to discuss the stories of other atheists who have become Christians (see here, here, here, and here). Most of the time, these stories are rather different from my own, because God calls to each of us in a slightly different way. Nevertheless, I am always fascinated to see how people are able to find the errors inherent in an atheist worldview and learn the truth. Recently, I ran across the story of Jennifer Fulwiler, who was brought up in an atheistic household. In a short video presentation about her conversion, she says that when she was in fourth or fifth grade, her father would read Carl Sagan's Cosmos to her at night. Her parents brought her up to believe that science was the answer to everything, and so from a very early age, she was indoctrinated into the materialist worldview.
In 2005, she started a blog called The Reluctant Atheist, and on what appears to be her first post, she wrote:
I was raised to believe that God does not exist…About two years ago I decided to actually do my own research and try to come to my own conclusions about God. I realized that despite my mantra of being "open-minded" about religion I was actually quite closed to ideas that didn't fit with my atheist worldview.

So here I am. Two years and a lot of research later I'm still not sure what I think. I've uncovered a lot of information and philosophical perspectives that I certainly was not told about as a kid and am still trying to process it all. After educating myself more about physics and biology I now believe intellectually in some sort of intelligent design, but my heart has yet to catch up. To be totally honest with myself, I'm still functionally an atheist. But I want to believe. My logical mind tells me some sort of creator exists. Some deep gut feeling tells me God exists. But I have a long way to go.
This sounds a lot like me when I was an atheist. Once I actually started learning serious science, it became abundantly clear to me that a Creator had to exist. As a result, my mind was pushing me to a belief in God, but it took a while for my heart to catch up. If you scan through her posts at The Reluctant Atheist, you see her working through several issues, and it seems that in less than a year, her heart had caught up to her logical mind. She changed her blog from The Reluctant Atheist to Et tu, Jen?, and now it is called Conversion Diary.