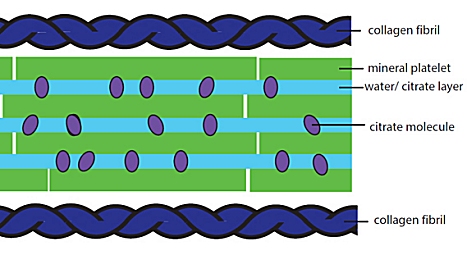 The bones that make up the skeletons of animals and people are a marvel of engineering. As one materials scientist put it:1
…bone properties are a list of apparent contradictions, strong but not brittle, rigid but flexible, light-weight but solid enough to support tissues, mechanically strong but porous, stable but capable of remodeling, etc.
More than three years ago, I posted an article about research that helps to explain why bones are so strong. The calcium mineral that makes up a significant fraction of the bone, hydroxyapatite, is arranged in crystals that are only about three billionths of a meter long. If the crystals were much longer than that, the strength of the resulting bone tissue would be significantly lower. What restricts the size of the crystals? According to the previous research, the tiny crystals are surrounded by molecules of citrate. It was thought that the citrate latches onto the outside of the crystal, stopping it from growing.
Some very interesting new research from the University of Cambridge and the University College London indicates that this is, indeed, what happens. However, it also indicates that citrate does much more than simply restrict the size of the crystals. It also helps to produce a cushion that allows bones to flex rather than break when they are under stress.
Continue reading "The More We Learn About Bone, The More Amazing It Is!"