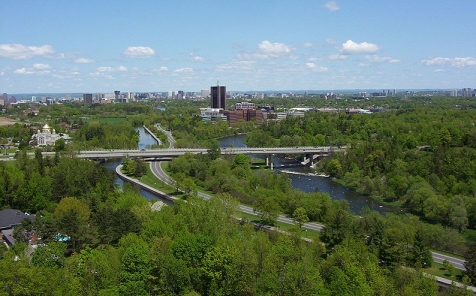 As I discussed in my previous post, I spoke at two homeschooling conventions last weekend. The first was in Cincinnati, Ohio and was covered in that post. In this post, I want to discuss the Rideau Valley Home Educators' Association conference, which took place in the province of Ontario near the capital of Canada, Ottawa. The name of the organization comes from the Rideau Valley, which is a watershed in eastern Ontario. The picture above shows the Rideau river (on the right), which drains the valley and feeds the Rideau canal (on the left) that connects Ottawa to Kingston.
Even though it made for a very hectic weekend, I was glad that I had the opportunity to speak at this Canadian conference. I knew it was going to be a great experience when I first arrived in Canada. I was walking from the airplane to the customs area of Toronto (my first stop in Canada) when I got on an escalator. I stood there, riding the escalator, when it suddenly came to a dead stop. This is something my little girl (who is now 35) always wanted to have happen to her, because she had a plan. Knowing that it might never happen to her, I decided to take up the charge and follow her plan. I stood there on the unmoving escalator and yelled, "HELP! HELP! I'M STUCK. HOW DO I GET OUT OF THIS THING?" I thought it was hilarious, but my fellow travelers were barely amused!
This put me in an amazingly good mood, so even though I didn't arrive at my hotel until after midnight, I was happy to get up bright and early on Saturday morning and come to the conference. It's wasn't a big conference like the one in Cincinnati, but the venue was completely full. In addition, the crowd was incredibly responsive. I gave four talks: Homeschooling the Solution to our Education Problem, 'Teaching' Science at Home, Why Homeschool Through High School, and Be Open-Minded, but Don't Let Your Brain Fall Out. Four talks make for a tiring day, but it was well worth it.