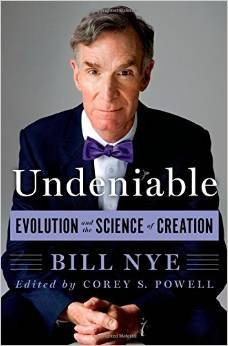 Bill Nye calls himself "The Science Guy," but he sometimes acts in ways that can only be described as anti-science. For example, in a video he stated that creationism shouldn't be taught to children. This, of course, is blatantly anti-science, because scientific progress is built on the competition of ideas. If you say that an idea shouldn't be considered because you don't like it, you are working against science, not for it. In addition, he narrated a video about global warming that contained a faked experiment! Faking experiments is definitely not pro-science! Nevertheless, Nye obviously loves science, which leads me to wonder why he sometimes acts against it.
After reading Nye's book, Undeniable: Evolution and the Science of Creation, I think I understand. He simply doesn't inform himself on scientific issues. As a result, he really doesn't understand science and doesn't understand why some of his actions are so anti-science. Consider, for example, what he writes about kids who are taught creationism:
Not only that, these kids will never feel the joy of discovery that science brings. (p.10)
This, of course, is demonstrably false. Had Nye bothered to inform himself about kids who are taught creationism, he would find that they often do better in science than their peers who were not taught creationism. In addition, he would have learned that many kids who were taught creationism are now studying science at the university level or are already professional scientists. I have several students, for example, who say that the reason they decided to become scientists was because of my creationist textbooks (see here and here, for example)!
Of course, the fact that Nye is utterly uninformed about creationism leads to all sorts of problems with his book, which I have detailed in the PDF document at the end of this review. What really surprised me, however, is that his book shows that he hasn't really informed himself about the science related to evolution, either. As a result, much of what he says in the book is utterly false.