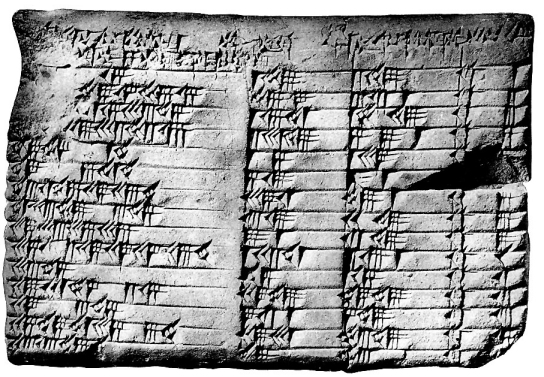 Back in 1922, G.A. Plimpton bought the tablet shown above from an archaeologist named Edgar Banks, and it has become known as "Plimpton 322." According to an analysis of the writing, it is of Babylonian origin and probably dates back to the 18th-century BC. It has been known for a while that Plimpton 322 is a mathematical table that contains ratios related to triangles. However, there were aspects of the table that didn't make sense, at least until recently. According to a study published in Historia Mathematica, it is actually the world's oldest trigonometry table!
For those of you who didn't take (or don't remember) trignonometry, it is a branch of mathematics that deals with triangles. I was first introduced to it in high school, as part of my "college preparatory" mathematics education. One thing that initially struck me about this branch of mathematics was the fact that there were times you had to use a lookup table (or a calculator) in order to get the results you needed. I had never before done math like that. Sure, calculators made some math faster and certainly cut down on errors. However, for some trigonometry problems, you simply couldn't get the answer without looking up numbers in a table or using a calculator.
Once I studied chemistry and physics at university, trigonometry became a pretty constant companion. In physics, you use it to analyze vectors, which are one of the most fundamental aspects of that scientific discipline. In chemistry, you use it to study molecular structure. Over time, I got really adept at using my calculator to solve trigonometry-related problems. Interestingly enough, however, this tablet represents a completely different means by which you can do trigonometry.