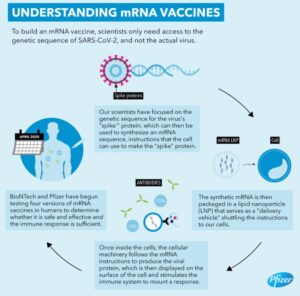 There has been a lot of talk about Pfizer's COVID-19 vaccine, and a reader asked me to comment on it. The company claims it is more than 90% effective at preventing the disease, which is better than what most health-care experts were expecting. If true, that news is exciting enough. To add to the excitement, it is a new kind of vaccine that has great potential, if it works the way it is supposed to. There is another company trying to produce a similar vaccine, but it looks like Pfizer is in the lead, so for the purpose of this article, I will focus on its version.
Let me start by saying that I have no connection to Pfizer or any other pharmaceutical company. I am a science educator who writes about science issues like this one. I am also not a medical doctor or medical researcher. I am simply a nuclear chemist who has broadened my knowledge base by writing (or co-writing) a series of textbooks used by home educators and teachers in Christian schools. Thus, I am no expert on these matters. However, I get most of my information by reading the scientific literature, which allows me to avoid a lot of the misinformation found in the standard media outlets and (even worse) social media.
Before I talk about Pfizer's vaccine in particular, I want to explain how this kind of vaccine works. To understand that, remember that a traditional vaccine uses a weakened/inactivated form of the pathogen whose infection it wants to prevent (or a chemical mimic of that pathogen). This causes your body to react as if it is being infected by the real thing. As a result, it mounts a defense that is specific to that pathogen and remembers how to fight it. That way, if you get infected by the real thing, it can mount a swift immune response. This process takes advantage of your acquired immune system. However, you also have an innate immune system, and the active ingredient of the vaccine does not stimulate it. As a result, traditional vaccines have additives, called adjuvants, which are designed to stimulate your innate immune system. That way, everything in your immune system works the way it is designed to work.