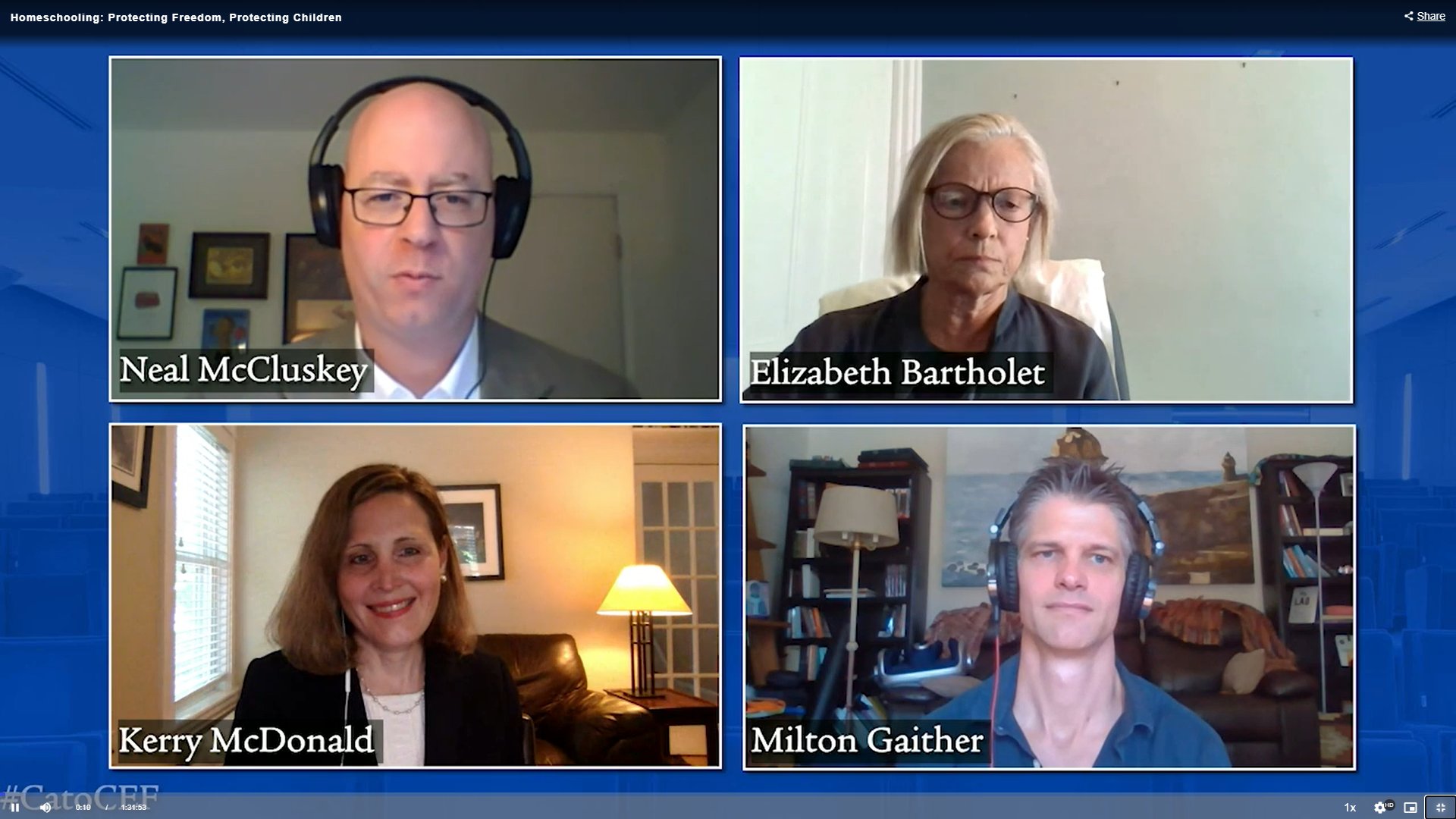 On Monday, the Cato Institute hosted a panel discussion about homeschooling. It was prompted by an uninformed article that was published in the Arizona Law Review. The author of that article, Professor Elizabeth Bartholet of Harvard University, was one of the four panelists. The others who joined her were Neal McCluskey and Kerry McDonald from the Cato Institute and Professor Milton Gaither from Messiah College. I encourage you to watch the entire discussion by clicking on the image above, but I cannot resist adding my own "color commentary."
I watched the discussion live, and I appreciated the fact that all the panelists were collegial. While they all had different ideas regarding homeschooling, there were no personal attacks or insults. That can't be said about the text comments that were being added by some of the people who were watching. According to the software, 1,100 people were watching once the introductions were over, and 2,009 were watching by the very end, which was just over an hour and a half later.
The main issue that all the panelists addressed was how much government intervention should exist when it comes to home education. Here are the ways I would summarize each panelist's position as expressed in the discussion: Professor Bartholet thinks that parents must demonstrate that they will be effective educators and provide a safe environment before they should be allowed to homeschool. Kerry McDonald said that there really shouldn't be any government intervention, since the government has shown that it cannot educate children well or keep them safe. Neal McCluskey said that there should be limited intervention, confined to making sure children are not being abused or neglected. However, he emphasized that this should be done through the existing criminal processes, which assume innocence until guilt is proven. Professor Gaither didn't really offer an opinion, but said that he has been horrified by some of the news accounts of abuse done by homeschooling parents. He also gave a history of homeschooling that was a bit biased, but relatively accurate.
Continue reading "Homeschooling: Protecting Freedom, Protecting Children"