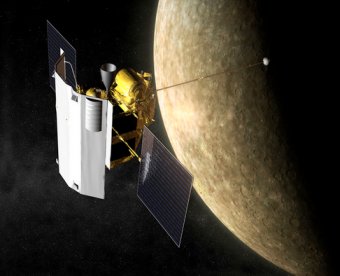 Mercury is a difficult planet to study because of its proximity to the sun. As a result, there are only two robotic spacecraft that have visited it. Starting on March 29, 1974, the Mariner 10 spacecraft flew by Mercury a total of three times, but it never entered orbit. Then, on March 18, 2011, the spacecraft known as MESSENGER (MErcury Surface, Space ENvironment, GEochemistry and Ranging) settled into a comfortable, near-polar orbit of the planet and has been studying it in detail ever since.
As a scientist, I am always excited to learn new information about God's creation, so I have been watching MESSENGER's progress with interest. As a young-earth creationist, however, my interest in MESSENGER was somewhat heightened, because its mission included collecting data on Mercury's magnetic field. The young-earth model of planetary magnetic fields had made a prediction about what MESSENGER would find once it collected those data, so I was naturally very interested in the results of the measurement.
Since the previous measurement of the field was made more than 35 years ago, and since the young-earth model predicts that all planetary magnetic fields should decay fairly rapidly, the young-earth model predicted that Mercury's magnetic field should have decayed by roughly 4 percent since Mariner 10's previous measurement. By contrast, the old-earth model predicts no measurable change at all. Because the young-earth model has been successful in three other predictions,1 I was hoping that MESSENGER would provide a fourth.
Unfortunately, that didn't happen.