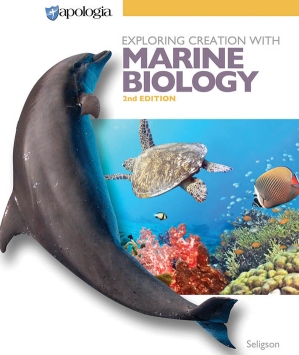 About 12 years ago, Sherri Seligson published a course entitled, Exploring Creation with Marine Biology. It quickly garnered rave reviews among homeschooling families. Over those 12 years, I have spoken to many, many high school students who have called it their favorite course, and I can remember at least four of them who said that they planned to study marine biology at university specifically because the course had given them a love for the subject. Such reviews have never come as a surprise to me, because Seligson has the "perfect storm" of characteristics for writing an excellent marine biology course for homeschoolers.
First and foremost, she knows her subject. She has a degree in marine biology and was the aquarist of the Living Seas aquarium at Epcot Center for four years. Based on her work there, she was able to publish original research on shark behavior in captivity. Second, she has a real passion for the subject. Just ask her a question about marine science. Her eyes will light up, she will smile, and she will enthusiastically answer your question, along with a dozen other related questions that you hadn't thought to ask. She is also an excellent communicator, being able to adjust the way she discusses a subject so as to meet the needs of the listener. Finally, she is a homeschooling mother, having educated four amazing children who are now adults. Is it any wonder that she could write a course on marine biology that would become so beloved in the homeschooling community?
However, 12 years is a long time for a biology course to be around. Our understanding of the natural world changes, and sometimes, those changes are substantial. As a result, science courses need to be updated from time to time. So far, the publisher of Exploring Creation with Marine Biology has been "hit and miss" with its updates. A few years ago, the publisher updated its Human Anatomy and Physiology course, making it significantly better than the previous version. The publisher then updated its chemistry course, with disastrous results.
I am happy to report that the publisher is now "two for three," having produced an excellent update to this already fantastic course.
Continue reading "Exploring Creation with Marine Biology, 2nd Edition"