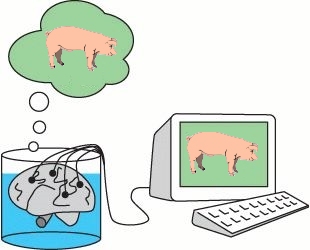 As anyone who reads my blog knows, I have a rather low opinion of science "journalism." In my experience, most science "journalists" know little about journalism and even less about science. As a result, what they publish is often so misleading that it just adds to the level of scientific ignorance that is already shockingly prevalent in today's society.
As a result, I was pleased to find that two different readers sent me two different articles about a recent experiment involving dead pig brains. They were both justifiably skeptical of what the articles were saying, and they asked my opinion. I am happy to oblige. The worst of the two articles can be found at Big Think. It is entitled "Yale scientists restore brain function to 32 clinically dead pigs." It then goes on to say:
The image of an undead brain coming back to live again is the stuff of science fiction…But like any good science fiction, it's only a matter of time before some manner of it seeps into our reality. This week's Nature published the findings of researchers who managed to restore function to pigs' brains that were clinically dead. At least, what we once thought of as dead.
None of this is true. The researchers have accomplished something that overturns the current scientific consensus about the survivability of neurons (the "workhorse" cells of the brain). They also might have developed a technology that will significantly improve drug testing, but they haven't even come close to restoring brain function!
Continue reading "No, Scientists Did Not "Partially Revive" Pig Brains!"