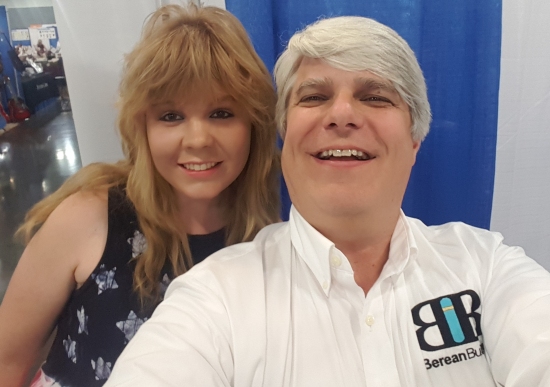 I just got back from Ontario, California, where I spoke at the California Homeschool Convention. I gave a total of five talks over the three-day conference, and I had the chance to speak with lots of homeschooled students and their parents. Several wonderful things happened at the conference, but the highlight for me is pictured above.
On Friday, a young lady named Savannah came up to my publisher's booth and asked if I was Dr. Wile. I said yes, and she proceeded to tell me that she loved my biology textbook and planned to major in biology at university. I tried to express how much that meant to me, and then she hesitantly asked if I would sign her copy of my book. I said, "Of course!" She didn't have it with her, but she promised to bring it the next day. Late into the convention on Saturday, she returned with her book, and when she handed it to me, she said, "This is my favorite book in the entire world!"
I had no idea what to say to that. While a lot of students tell me that they love my textbooks, and many of them have also said that my textbooks have inspired them to study science at university, I have never had anyone tell me that one of my books is their favorite book in the entire world! I have lots of favorite books, and none of them are science-related! Don't get me wrong, there are a lot of science-related books that I really love, but I wouldn't list any of them as my favorites. When I think of my favorite books*, I think of fictional works like The Chronicles of Thomas Covenant (my all-time favorite series), The Lord of the Rings, and Armageddon's Children. Not a single science-related book comes to mind. Needless to say, I was overwhelmed by Savannah's words.
Continue reading "Can Courses Taken in Junior High Be Included on a High School Transcript?"